Facebook makes it super easy to signup and start advertising your business. But making the right marketing choices once you get started? Not so much.
If you're struggling to make the most of Facebook advertising for your business, don't worry, you're not alone. In fact, 62% of small business owners say their Facebook Ads miss the mark.
With so many options available on Facebook, it's easy to get lost in the ad types.   And Facebook is constantly adding or modifying ad types.  It's difficult for businesses to stay on top of the change and completely understand all of the options available.
This post will break down the available Facebook ad types, so you can choose the right ad type for your marketing goals.
The Many Different Types of Facebook Ads
Here's a breakdown of all the different ad types you can choose from on Facebook:
Link Ads
Link Ads are just that, a link with a featured photo and ad text.  Some marketers will call these blog ads, article ads or post ads.
Here are a couple examples of link ads that appeared on Facebook Desktop's right column: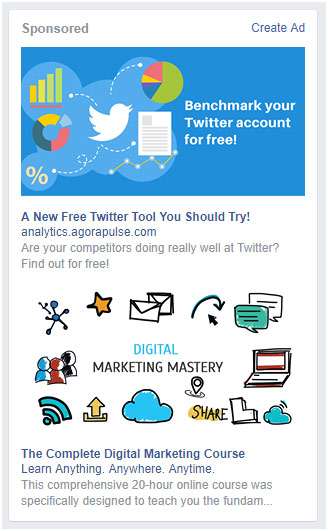 Link ads are mainly used to drive traffic to your page or generate lead conversions — you optimize your ad to encourage people to take action on your site, such as trying a tool, downloading a guide or signing up for your newsletter.
An additional strategy is to send visitors to your website to teach them about your business, product or service. Then you retarget visitors with a lead generation add after they have visited your website and shown some interest.
---
Photo Ads
Photo ads are just like link ads, except instead of using them to attract traffic to your site, you use them for location-based marketing.
For example, if you want to increase store visits, create a dynamic photo ad that customizes messaging to each of your store locations: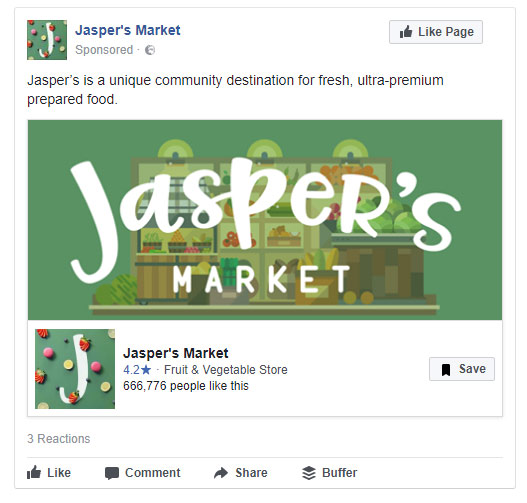 These ads have less text and are generally quick hitting visual marketing advertisements for smaller, more defined ad sets.  In this case, the user is near the particular store and may be targeting by showing an interest in organic foods.
---
Video Ads
Facebook video ads allow you to advertise up to 120 minutes of video. They're essentially just like your Link Ads, only they display a video instead of a photo: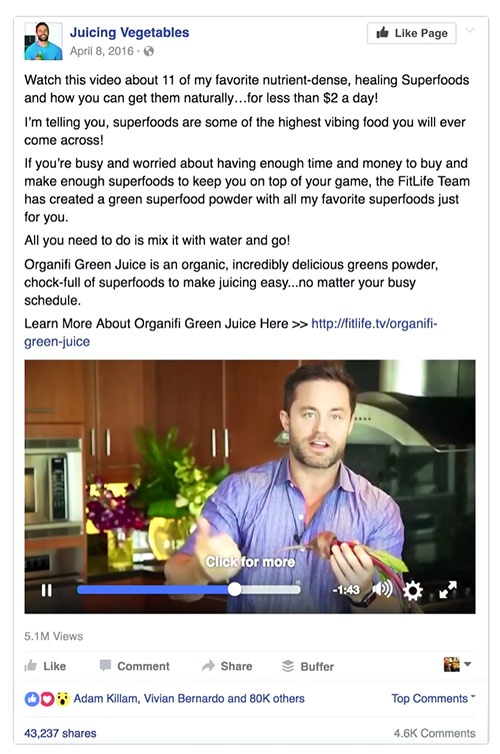 The good news is that when Video Ads are done correctly, they produce amazing results.   We've seen ROI's over 3000%  with excellent engagement. For lead conversions video ads usually outperform every other advertisement.
The downside is that it takes some creativity and often video equipment to create a professional video.   But thats not always the case. Sometimes a simple video can work well.  Even a selfie phone video can be extremely effective because of an authentic appearance.
Another benefit of video ads is that you can create custom audiences based on the length of time visitors watched the video.  This becomes extremely useful for retargeting campaigns.
No matter what you do, a video ad requires a good strategy and compelling copy.
The image above is from a video used by Digital Marketer partner and author Keith Krance, who is a master at video facebook ads.  We use his strategies on video ads we create for clients.
---
Carousel Ads
The carousel format allows you to show up to 10 images or videos in the same ad. It's a favorite of e Commerce advertisers because it allows you to show more products or more various of products: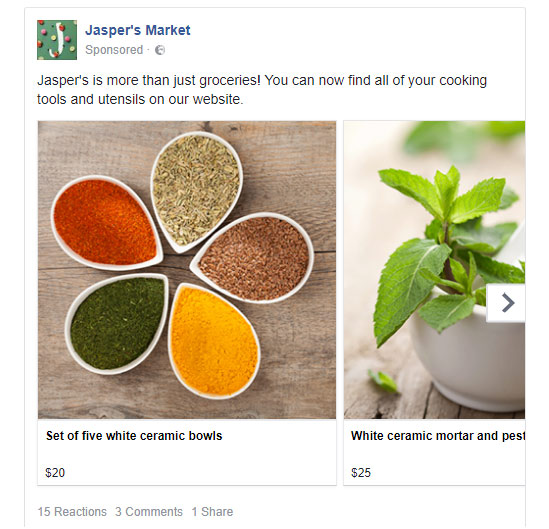 But your carousel photos don't have to be products necessarily, they could be lead magnets or other content as well.
---
Product Collection Ads
Collection ads are specifically designed for promoting multiple products in one ad: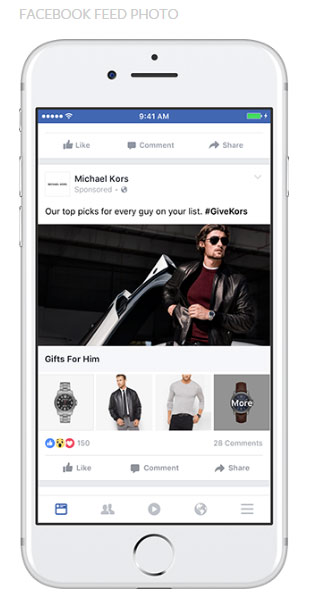 When your audience interacts with the ad, they're able to browse and learn more about your product offerings, just like they're shopping on your site.
---
Canvas Ads
Canvas ads are the most interactive ad type out there, only available for mobile. With it, users can swipe through images, tilt the ad, zoom in and zoom out to get different perspectives.
---
Lead Ads
Lead ads look a lot like Link ads, but they're different. This ad type allows people sign up for your email list or download your content straight from Facebook, instead of sending people to your website.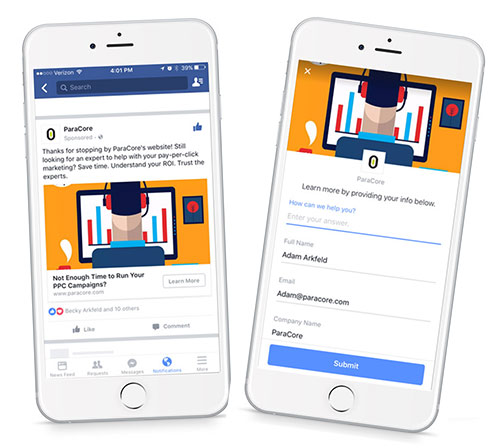 The beauty of these leads ad is that you are taking a step away from the user which is always good. Instead of going to your landing page then filling out a lead form, they can simply hit a button and be done.
The tricky part is that they are still fairly new and facebook is still working on integration with various email lead generation software.  We've used Zapier with a few email marketing apps with success.
---
Engagement Ad Posts
There are 6 facebook ad types designed to drive engagement:
● Photo Post
● Video Post
● Text Post
● Canvas Post
● Page Likes
● Event Responses
The first 4 are exactly like the regular ads of the same name, but they include extra elements that encourage engagement, including a "Like Page" button and likes, comments, shares.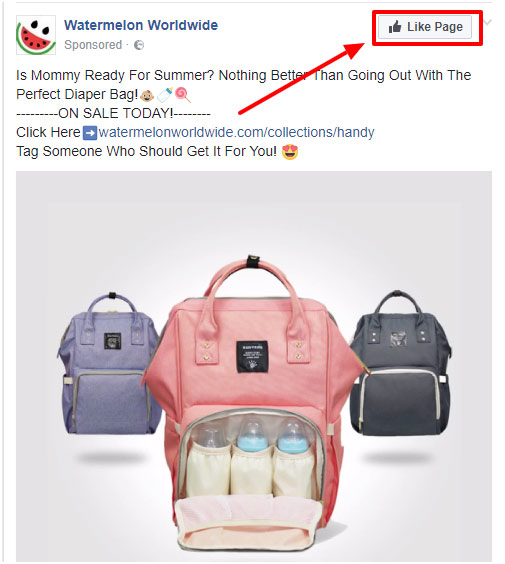 ---
App Install Ads
If your business offers an app, then this ad type can help you encourage installs.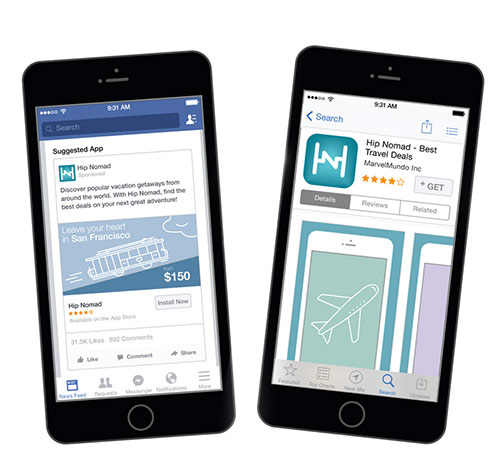 You can choose between a desktop or mobile app install ad, based on what kind of app you offer.
---
Your Facebook Ad Types Cheat Sheet
Now that you have an idea of the types of ads Facebook offers, all you have to do is pick the right one for your marketing goals.
Here's a quick cheat sheet you can use to make it way easier:
Business Goal
Best Ad Types
Increase traffic to your business website
Link Ads, Carousel
Ads, Collection Ads
Build brand awareness
Photo Ads, Carousel Ads, Video Ads, Canvas Ads
Broaden Reach
Photo Ads, Carousel Ads, Video Ads
Capture leads on your site
Link Ads, Canvas Ads
Capture Leads on Facebook
Lead Ads
Drive sales on your site
Link Ads, Carousel Ads, Collection Ads, Canvas Ads
Encourage people to visit your ecommerce store
Photo Ads, Carousel Ads, Video Ads
Encourage audience engagement
Photo post ads, video post ads, text post ads, canvas post ads, page like ads, event response ads
Encourage people to download Your app
Desktop App Install Ads, Mobile App Install Ads
Figured out what Facebook ad types you want to start with? Good.
Next, you just have to create a marketing message that speaks to your target audience, and make sure you're reaching them with Custom Audiences while taking advantage of retargeting.  But those are topics for another post!
In the meantime, learn more about our Custom Facebook Ads service.