Google Local SEO Audit Example PDF
The pdf embedded below is an example of a typical local SEO audit and will be similar to the report you received. You can download the example PDF or open this page in a separate window to follow along with the local SEO audit guide. An image of each section is also provided in the relevant section below. You can click each image to increase the viewing size.
Local Business SEO Audit Guide & Tips
Before you begin to read the Google Local SEO audit, it is important to understand what we know about Google and search engines. Google uses an algorithm to rank local businesses in search. They keep this information a secret. So how do we know what factors impact search rankings?
The Local SEO community works together to share observations.
Several organizations also research search engine optimization and share this information.
As a Local SEO service provider, we have had access to conferences and training, often these events include Google's employees.
We also use our own experience to build and test strategies.
We are also a Google Ads advertising agency. Pay per click search advertising has a strong correlation with SEO.
We are a Google Partner, certified by Google and receive training on their products.
Google is actually our customer. We've been on the publisher side and gained insights from that experience.
Our founders also own 2 other local businesses, providing us the capability to experiment with a real companies.
We've participated in the Google Accelerator program. They only take a few companies each quarter for that program.

The summary gives you an overview of the score for each area of the audit report. Within the PDF, you can click on the boxes to be taken to the relevant page.
The first question we get asked is, "where should I start?" Our recommendation is to start in the areas that have the lowest score. Also, work on the sections that you can control. Lastly, work on the areas that can produce the fastest results. Your Google My Business profile is an area you can improve and rank higher for specific keywords within 2 weeks. The order of sections below is not based on priority. It is the order you will see these sections in your report.
Links & Website Authority

Backlinks are a major ranking signal for national SEO, but have less impact on Local SEO. Still they are an important part of the local SEO audit. If you are learning about SEO in general, then you will see the topic of backlinks discussed frequently. For Local SEO, backlinks are helpful, but not as high on the list of ranking signals.
In December 2014, Google launched the famous Pigeon algorithm update that dramatically changed Local SEO. This was the introduction of Google My Business. This algorithm update also included a major shift in how backlinks impact local businesses.
Prior to this update, local businesses couldn't get ranked ahead of large national sites. Some people may remember the days when a local hardware store would never rank ahead of Lowes or Home Depot. Yelp used to have all the high rankings for every local search. Big companies could invest millions of dollars in backlinks and always outrank local companies. This wasn't giving Google users ideal search results, and it became the primary reason for such a dramatic change.
Backlinks provide a ranking benefit. The emphasis should be on high quality backlinks. They have the most impact. A large quantity of low quality irrelevant backlinks will not help. Business listings will give you some backlinks, and they are considered as part of your link authority. However, Google claims that they know the difference between business listings and other links, so listing links have less impact on your backlink profile.
Here are a few ways to get good backlinks:
The next part of the local SEO audit guide is the rank tracker will tell you where you rank for keywords related to your local business. This will be your guide and tell you which keyword searches to prioritize.
The audit provides a general overview of keywords by searching current rankings on Google My Business and related categories. The Rank Tracker shows how you rank for Google Search, Google Mobile and Google Maps. Additionally, you can see your rankings for Bing and Bing Local. There are different search ranking factors for each of the 3 major Google searches. However, the mobile results are normally the same or similar as Google search results, but can drop if you do not have a mobile friendly website.
If you are going to work on improving your rankings, you should spend some time understanding which search terms are used to find your business. Along with this rank tracking report, you should build a list of relevant keywords to monitor. A service to monitor your search rankings will be necessary, as rankings constantly change.
Tools for Finding Local Search Keywords
Researching keywords is a critical part of Local SEO. You can find good keywords that your competitors are not using in their profiles and listing text. There are a number of free and inexpensive keyword tools you can use to find a list of keywords. We created an article that includes some great free keyword tools that you can use for research. Each tool is unique and provides a different type of data that can be extremely useful. Click the link below to learn more.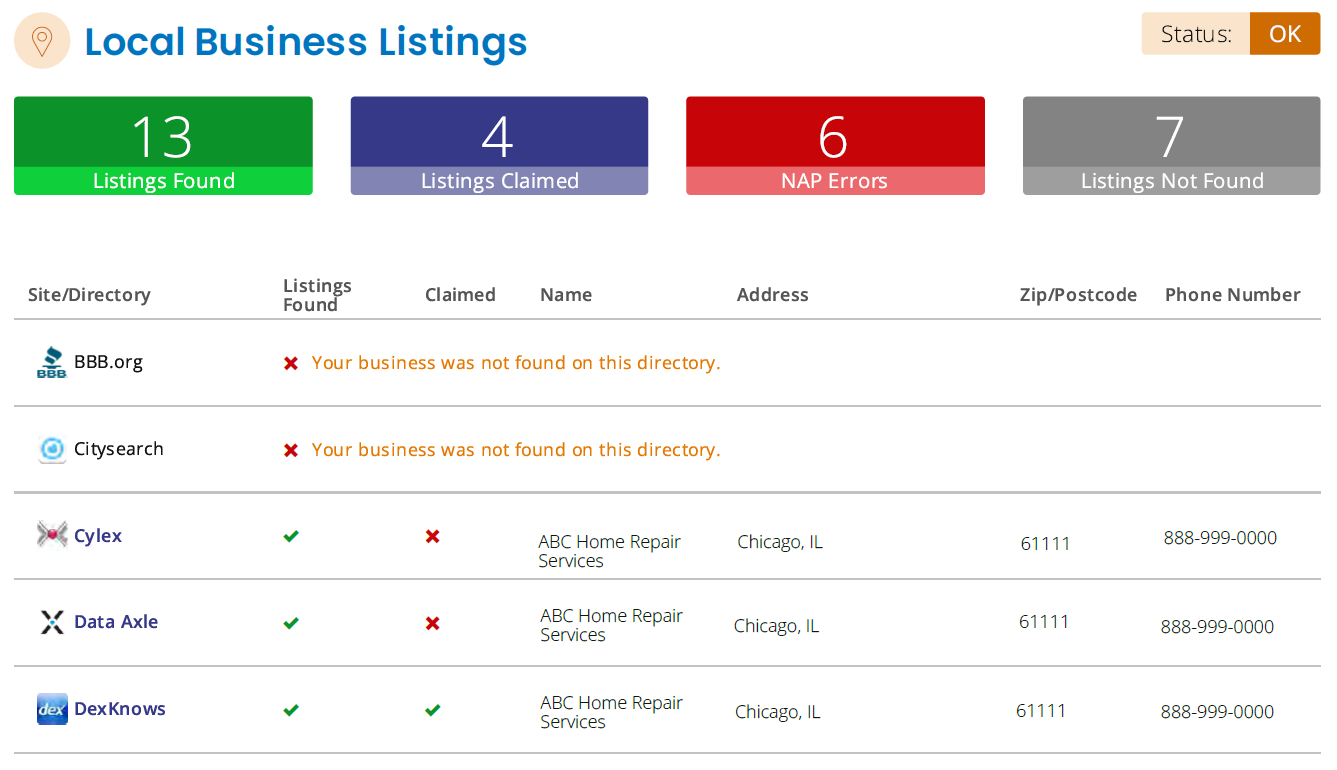 Understanding your business listings is a critical part of the local SEO audit. There are hundreds of business directories that allow you to list your business. These directories have forms for you to submit your business information that will be published online. Business listings are a key search ranking factor for Google. There are several aspects of business listings that are important.
NAP stands for Name, Address and Phone Number. Each listing should contain the exact same NAP data. Google's goal is to provide the most accurate business and map information. People are using Google to get directions and learn about businesses. If your business listings show 2 different addresses, then Google doesn't know which one is correct. Did you move? Did you go out of business? When NAP data is 100% accurate wherever you are listed, then Google considers this data to be more trustworthy.
Quality and Quantity of Listings
There are hundreds of business listing directories. Start with the highest quality listings. The most important of course is Google My Business, which is in its own category. The other key listings are: Yelp, Bing Places for Business and Facebook. After that, there are about 20 more major listings that you will want to be listed. You will find those listings in the Google local SEO audit report.
Another aspect of quality is relevancy. For some types of businesses, there are niche listings sites. These listings will provide more value as the overall website topic has more keyword relevancy. Also, some directories are more important for certain business types. For example, TripAdvisor and Four Square are critical for restaurants.
A larger quantity of listings will help you. However, quantity of listings has diminishing returns as the listings naturally become a lower quality. The optimal amount of listings depends on the business type and competition. At some point, getting additional listings won't change your rankings for your main keywords, with one exception, explained below.
Keyword Relevancy in Listings
There are words all over the web. The words that are used on the page that links to your website have an impact on ranking for the keyword. This is why topic and niche listings can help certain types of businesses. Since you control your listings, the text you use in your listing descriptions can help you rank for targeted keywords.
This is where additional listings can help. If you were ranked well for "roofing service," but ranked poorly for "roofing company," you could use additional listings to help that keyword phrase. Build some new listings, but use the phrase with optimal keyword density. Of course, this is just one part of a hyper targeted keyword strategy.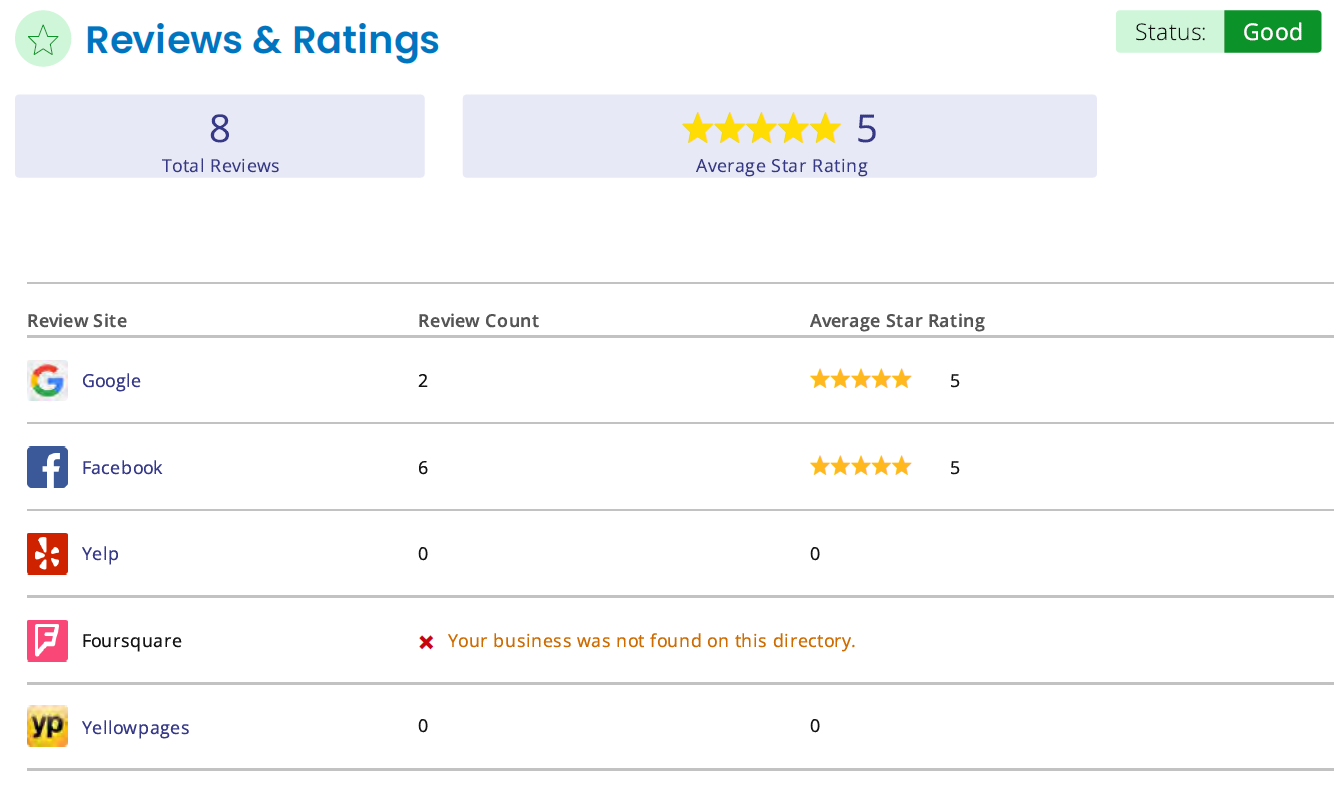 This section of the Google Local SEO Audit gives you a nice overview of the major reviews and ratings websites. For most businesses, Google will be the priority, but Facebook and Yelp are important. Foursquare is more important for brick and mortar businesses with physical locations, such as retail stores and restaurants. Yellowpages reviews have the least impact on search.
How Google Uses Reviews for Search Rankings
There are 2 types of search results that google provides: The Local Pack rankings and Organic Search Rankings. Reviews are a major search ranking factor for the Local Pack. They are near the bottom of the list for organic search results.
Reviews also have a major impact on getting customers for a few reasons:
Reviews are a form of social proof. In recent years, surveys suggest that users trust Google reviews more and more each year.
Good reviews increase click-through rates, especially on the local pack listings. A local company with better ratings in the #3 spot can get more clicks than poor ratings in the #1 spot.
Good online reviews will lead to more conversions. You will get contacted exponentially more often when your online reputation is superior to your competitors.
Over the last 3 years, as Google My Business matured, reviews have had a growing impact on search results.
It doesn't take an expert to tell you that you should try to get good reviews. And to some degree it's out of your control. However, most customers will not review your service without being asked. So ask your customers for more reviews. It's not uncommon for people to be tentative about asking for reviews. After working with hundreds of companies, we can assure you that once you start, it's something you get comfortable doing, and you can get some fantastic insight into how customers view your business. One of our clients has over 1000 reviews as all of their employees ask all their customers.
The star rating helps, but probably a bit less than you imagine. Having a really poor rating can hurt search results, but in most cases if your rating close to competitors, it won't have a big impact. In other words, having a 4.7 rating doesn't help you rank much higher than someone with a 4.2 rating. Here are the other areas where your reviews impact search rankings:
How Reviews Help Search Rankings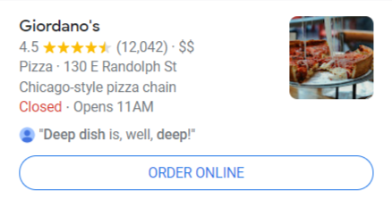 When a user searches on Google Maps, you will often see text used in reviews displayed under the listing, as shown on this image. This was a search for deep dish pizza in Chicago. You can see that Google picked up a mention of deep dish from one of the reviews for Giordano's (P.S. This is great deep dish pizza if you are ever in the Windy City!).
Tip: Your review response is an area you control, so should be part of your Local SEO strategy. A quick and meaningful response adds another layer of trust. It shows potential customers that you pay attention, and you are grateful for their support. Always try to respond to reviews within a few days and write a good response. Don't just say "thanks for the review" on every single response, as it comes off as insincere.
Google My Business Profile Audit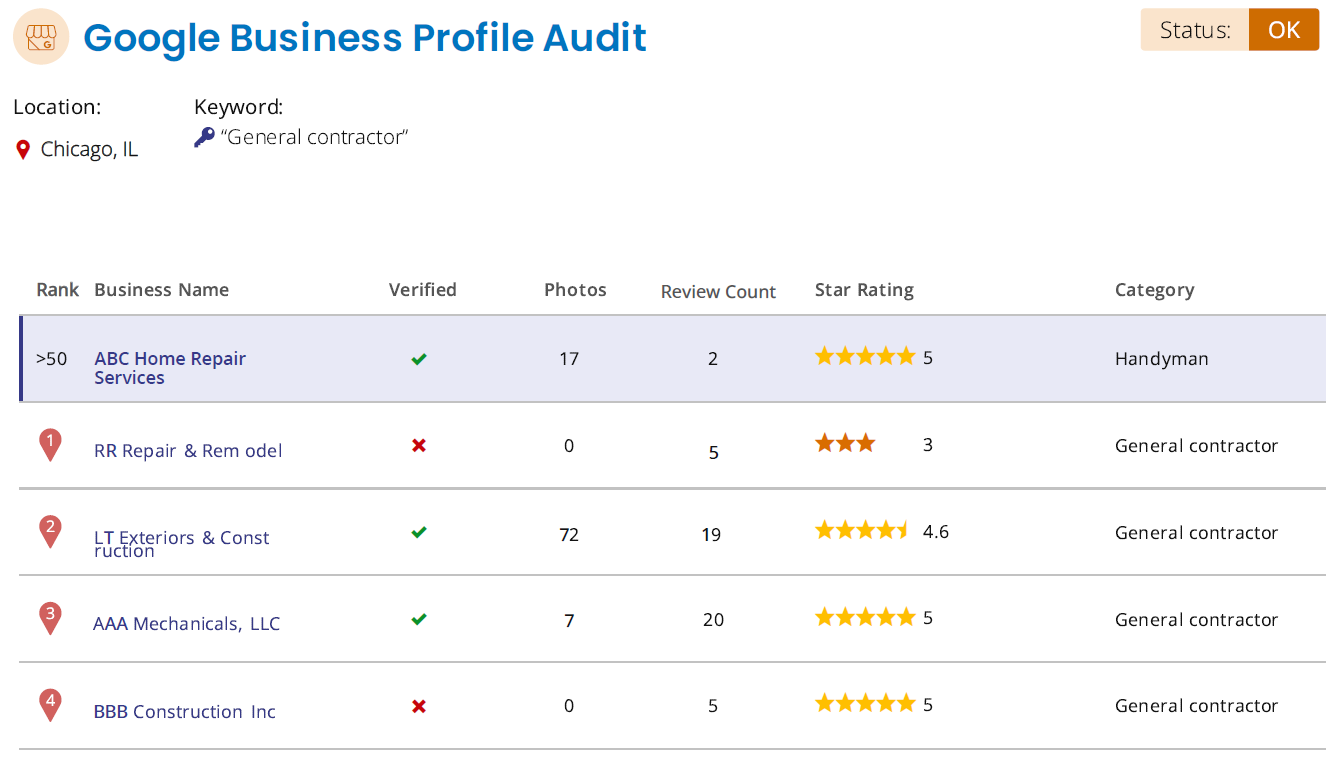 This part of the Google Local SEO Audit is critical for getting more leads and customers. Improving your Google My Business profile is the fastest way to increase your rankings. It is the area of Local SEO where you have the most control of your keywords. It is also the biggest search ranking factor for the Local Pack.
Google is known for providing android phones and tools such as Google Workspace. They are always working on new innovations. Despite all of these products and technologies, 58% of Google's revenue comes from Google Search and the Google Ads platform.
High quality search results are a priority for Google. In order to produce the best search results, Google wants businesses to use their platform. Companies that are actively using GMB by providing updated, accurate and detailed information will rank higher in search.
Your GMB profile is extensive, so there are a lot of areas to add information about your business. Listed below are the main areas you need to address and some tips to get the most out of your GMB profile.
Please use the form that Google provides and fill it out completely. To begin, log into your GMB profile and go to the Info tab. There will be many form fields to complete. Some of these fields won't apply to your business, so it's OK to skip those form fields. But if you can provide information, don't leave the form field blank. Use at least 90% of the maximum character length they provide in the form fields. Go through every aspect of your GMB account to make sure it is complete.
There are over 4,000 business categories available to choose from. Pick a primary category and then additional categories. The easiest way to find categories is by going to Google Maps and searching for competitors to see which categories they chose for their profile. Write them down and think about which category will work the best as your primary category. You can then add multiple additional categories.
On your GMB profile page, in the Info tab at the very top, you will see a list of categories. Before you select a primary category, ask yourself a few questions:
Is this category the most relevant?
Is this category going to produce the highest value customers?
Are my competitors using these categories?
If you are a new business or have poor rankings, you can sometimes benefit by picking a different category than your competitors. For example, a janitorial company will usually select janitorial services as their primary category. However, this can be very competitive. A new commercial cleaning business might choose to select floor cleaning or window cleaning as their primary to start. Then work to promote those services and optimize for keywords that fit those categories. This type of work can still be very profitable. It will be much easier to sell a core high ticket service after you establish a customer relationship. You can always switch primary categories in the future.
When it comes to additional categories, select another 3-4 categories. Selecting more than 4 additional categories will dilute the ranking power of categories. This can cause you to drop in rankings for all categories. Don't pick categories that are loosely related to your business.
Going down the page from the categories section, you can complete hours, phone numbers, website and other simple form fields. You will eventually come to the products section.
If you sell products, you want to list them. There are 2 key areas to complete:
Product category
Product Item
In the product item section, you don't have to list individual products. You can list a group of products in a price range and link to the relevant page on your website.
Add multiple categories and every product you sell, even if you end up grouping products. There are multiple ways you can link to products.
Product ecommerce page
Produce ecommerce category page
Product information page
Unfortunately, Google does not provide a way to bulk upload products. You have to enter each product manually.
This is an excellent area of your GMB profile to provide more keyword rich details about your company. Here are the steps to building a strong services profile.
Create categories for your primary services. These should be high quality search terms.
List the services within the category. You can get very detailed. The specific name of the service should match a term from your keyword research that you know users are searching to find your services.
Under the services you can add price, price range or free.
You have 300 characters to describe the service. Use at least 270 characters.
Start by adding all of your services before you write descriptions. The names of the services sometimes show up in Google Maps listings, so just the service names listed can improve your rankings. You can add at least 100 services. We do not know the limit, as we have never listed enough services to hit a maximum amount.
Make your service descriptions' keyword rich. This can be a good area to add similar keywords, and it doesn't hurt to be redundant.
As you move down the form on the Info page, you will come to an area where you provide your company description. The form has a maximum of 750 characters, so try to use at least 720 characters. Take your keyword research and make sure you are using your primary keywords.
When you write the description, you are using "SEO copy." This is different from normal marketing copy. While you want to make this description compelling, the reality is that most people won't read it. So don't waste the description with a lot of unnecessary language that would never be used to search for your company. The value of this section comes from the keywords you use.
Make sure you add as many photos as you can. These photos get a lot of views. Customers want to get a feel for the company they are considering, so use photos that will help sell your business. There are multiple categories of photos:
By owner
By customer (you don't control)
360
Video
Interior
Exterior
At Work
Team
Identity
Photos Sizes
Logo (Identity) - 720x720 pixels
Cover (Identity) - 1024x576 pixels
Photos - 720x720 pixels
Video Sizes
Up to 30 seconds in duration
75 MB max
720p or higher recommended
16:9 video aspect ratio
Here are some ideas for photos and videos:
Sell your service
Provide information
Products
Inside of your building
Outside of your building
Employees
Employees in uniforms
Management
Team work
People smiling and happy
Some funny photos are great
Strategies for photos
Use high quality images. Hi resolution. Nothing blurry.
Add more photos than your competitors.
Try to add at least a few more photos every month. Google measures activity and this can help.
Add photos that are current. (ex. Christmas photos in December).
Use keywords in the name of your photos. For example, floor-stripping-waxing-chicago-il.jpg.
There are some advanced strategies for photos, but they are normally reserved for highly competitive businesses such as attorneys, chiropractors and restaurants. If you have questions about how photos impact your Google Local SEO audit, then contact us if you want to learn about these strategies.
On-Site SEO (Website Optimization)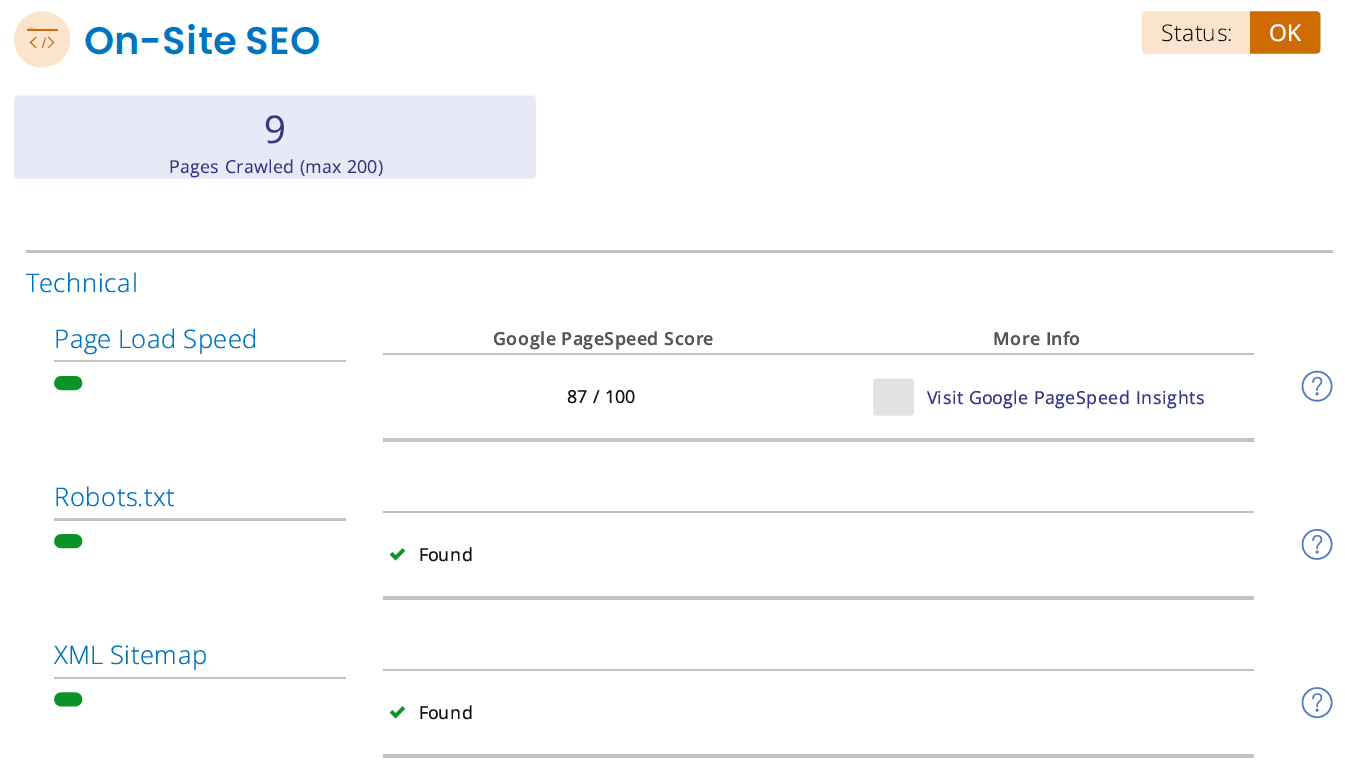 Even though the Google Local SEO audit focuses on Google My Business, your website is still a big part of SEO. Your website will contain text about your company and should include multiple pages of information. At minimum, your website should have the following pages.
Home
About Us
Contact Us
Service Pages
Product Pages
Location Page
Terms of Use
Privacy Policy
The About Us page is a great page to use the search word "company." For example, a roofing business might focus on the keywords roofing service, roofing installation or roofing contractor. The About Us page can focus on "roofing company," which is still a high buyer intent keyword.
Product and Services pages should include your primary keywords. Having a specific page for a primary keyword will help you rank for those therms. For a roofing company, this might be Roof Replacement, Roofing Installation, Siding Installation and Gutter Installation.
It is beneficial to have a specific page for your location. Multi-location companies need a page for all locations. These pages can include location based keywords, such as the cities and suburbs you service. Physical locations can include landmarks, maps and directions.
Do not underestimate the value of terms of use and privacy policy pages. Expertise and trust are extremely important. Google wants to know that you are a legitimate business, an expert in your field, and these legal pages help Google determine that you are a legitimate company.
Website SEO is a vast and complex. Your website SEO has a large impact on Google's organic search results. This page would be extensive if we explained all the concepts and strategies.
Your Googel Local SEO audit report has multiple factors that are outlined to help you identify potential issues with your website. You may want to have your website designer or a marketing agency optimize your website for search engines. Otherwise, if you want to do your own website SEO, here are some great guides for learning about website SEO from well respected SEO experts.
The list below includes the order of items you need to address first as a priority. Take your keyword research and match your primary keywords with the specific page. Then make sure that you are using SEO best practices. The areas listed below are normally easy enough to do yourself if you have access to your website and you are familiar with these areas:
For more advanced optimization, you may require help from a web designer, SEO service or IT professional. These areas are a bit more technical, so it depends on whether you are technically adept or understand how to address these areas.
XML Sitemap Installation
Robots.text Installation
Fix 404, 4XX and 5XX errors
Page speed optimization
Mobile responsive website
Google Analytics installation
Google Search Console installation
Google Tag Manager
Facebook OpenGraph Data
Twitter Cards
If you don't understand these concepts of the Google Local SEO audit and you are looking for help in these areas, contact us and we can either help or recommend a service that fits with your website technology stack.

Social media has a minor impact on search rankings, so it is lower on the list of priorities. However, it does have an impact as it shows that you are an active local business. Therefore, we include it in the Google Local SEO audit. There are only a few basic best practices that you should be able to check off your list. Here are the items you will want to work on:
Fill out your Facebook profile. It's another area that Google will index keywords.
Double check that all contact info and NAP data is correct on your social media channels
Respond to Facebook reviews
Make sure your social profiles are linked from your website and other social platforms.
Post at least 1-3 times per week on your social channels.
Some channels may not be ideal for your business type. For example, Twitter is a platform that is not always relevant for local businesses.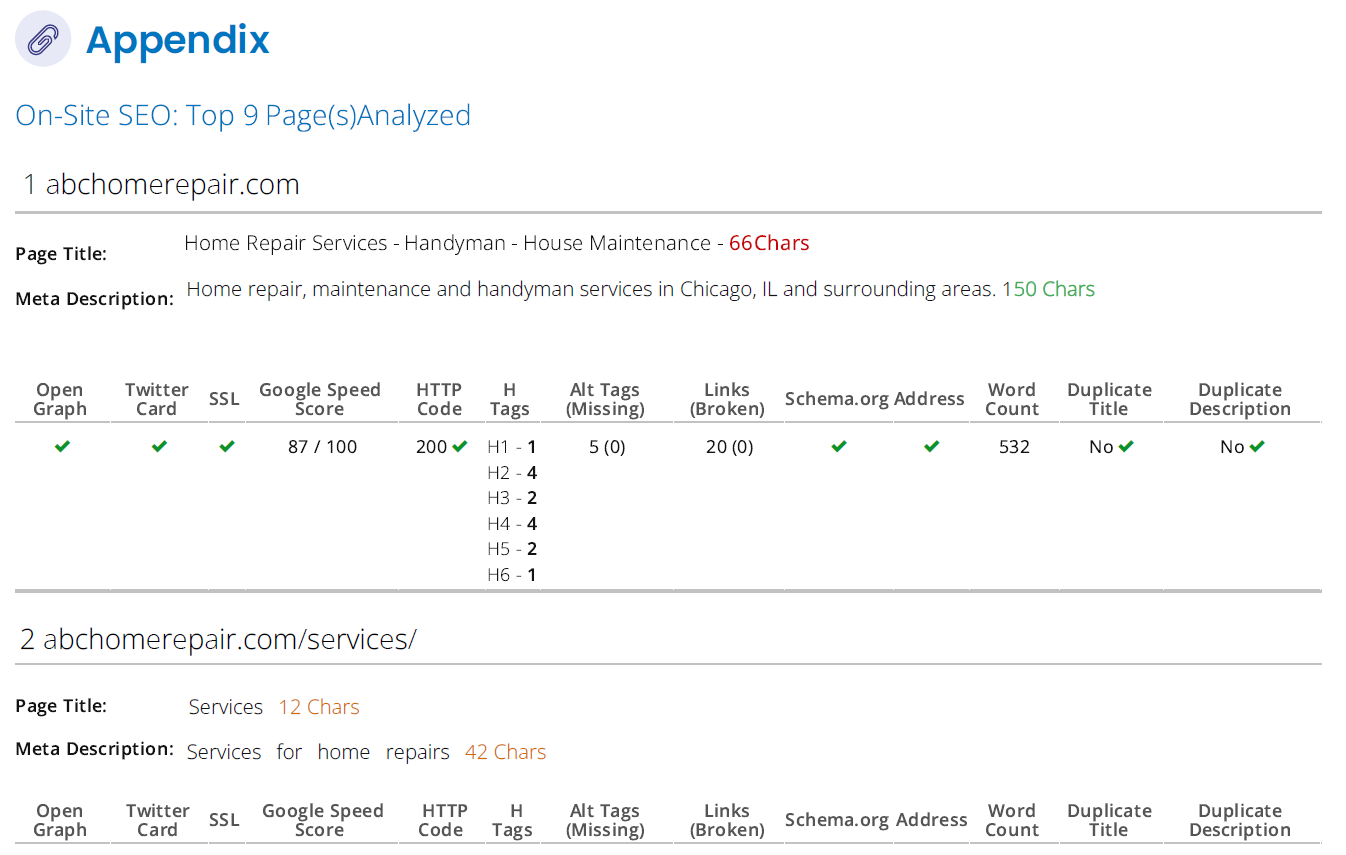 The appendix is just an extension of the On-site SEO pages that includes more detailed information on specific website pages. You can use this information to identify areas to address.
Local SEO Audit - Conclusion
Even thought this is a fairly long article, we have only touched on the basics. There are a number of advanced strategies that you can use to help you rank better in Google. We encourage you to keep learning and follow our content. If you are consistent and diligent, you can see great results.
As you can see, this topic is fairly extensive, so whether you use an expert service depends on whether you have the time. As a business owner, you have to decide whether you have the time to work on your Local SEO audit and if it's the best use of your time.
Our monthly service this is more affordable than most Local SEO services as we focus on the core areas and don't try to sell services you do not need. Here is a link to our Google Local SEO Service page with details, pricing and order form.
If you are still unsure about using an SEO service, we wrote a guide that outlines the types of services and reasons why you should or shouldn't hire a Local SEO Services. This guide would apply to our service or any other similar service.
There is tremendous potential in growing customers by optimizing your business for Google. It doesn't take months, and it doesn't take thousands of dollars. We wish you the best of luck! We hope you are successful, and we are always here if you need any help.
You are also welcome to contact us and set up a time to review your SEO audit. Use the form below to request a consultation.