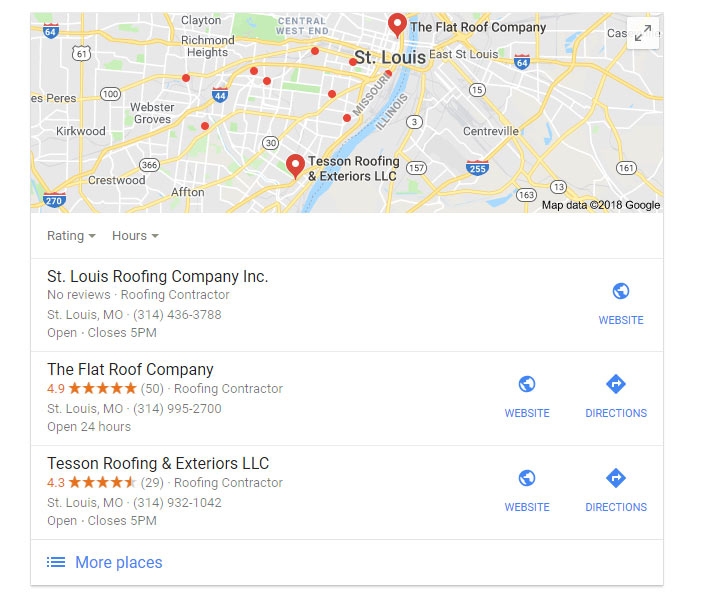 Grow Your Local Business through Google Search
Our team of experts provide a done-for-you service to set up, optimize and manage your local business online presence. Our goal is to get more potential customers to contact your business.
All of our clients start with our Google Local SEO service as the data is essential in providing additional services. Since SEO is a critical component to local business marketing, this is the ideal starting point to work with Sourceline Media.
If you have any questions about your Local SEO audit or our services, please do not hesitate to email us at [email protected].
Google Local SEO Service Pricing FAQ
Our guarantee has 3 components:
#1. Fast Results
You will see improvement in rankings and visibility in the first 30 days. Often this comes in just a few weeks.
If this does not happen, then we pause your monthly subscription until we see results.
#2. Increased Leads
We guarantee an increase in the number of people that contact you within 60 days. This is measured by 3 main statistics that come directly from Google:
Website visitors
Phone calls
Direction Requests
You can find that information on the Insights tab of Google My Business.
If you don't see better results, then we pause your subscription until we do. If we can't achieve this by day 90, then we will provide money back refund on our services.
#3 You Decide
You can cancel at anytime.
Even if we achieve #1 and #2, you always have #3.
We have no long term contract, and you can cancel the monthly service for any reason. We won't ask you why or make it a difficult process. It's your business investment, and you shouldn't have to explain why.
Local SEO can include a wide variety of services that typically cost $200 to $2000 per month.
The cost is entirely dependent on size of company, industry, location, number of locations, competition level and your objectives.
Our cost is only $398 for the first month which is the $149 set up fee then only $249 per month after. This is below average, especially for a guaranteed service.
We do not charge more for larger businesses because we need to do the same amount of work and analyze your results before we can create a customized strategy and recommend more advanced SEO services.
Our goal is to help the most local companies possible, and most businesses do not need to be investing a large amount of money on Local SEO. They just need to build an online presence the right way, sustain monthly activity, and focus on ranking higher in Google for quality keywords.
Here are a few 3rd party articles that discuss different types of Local SEO services and average costs.
Root and Branch- $750 per month average
Local Brand Advisor - $500 - $800 per month
WebFX - $300 - $2000 per month
Here is what you need to know.
High fee Local SEO services that are over $500 per month are completely unnecessary for 95% of local businesses. You will not need these expensive local SEO services unless you fall into one of these categories
Your business generates over $20 million in annual revenue from a single location.
You are an extremely profitable and highly competitive business, such as chiropractors, restaurants or attorneys.
You are franchise or have more than 5 locations.
Even if you fit in these categories, we still don't recommend starting with expensive service. We do not offer a more expensive program to start off, as we need at least 3 months of data and analysis to learn your business, ranking patterns and local market. This would be required in order to build a more advanced and comprehensive strategy.
To subscribe to the Google Local SEO monthly service, you will pay a total of $398.00.
This is a $149 set-up fee plus the normal $249 monthly fee.
The extra set-up fee covers additional time needed to create your account and business listing fees. The cost of similar listing fees is going to be $150 to $200 if you do this yourself, but we get volume discounts.
The remainder of the fee is our time to do the following:
Set up your account in our system
Detailed local SEO analysis
Keyword research
Configure ranking reports
Proximity analysis
Business listing analysis
Set up Google My Business (GMB)
Google My Business SEO copywriting
Business listing submission
Data aggregator submission
Business listing SEO copywriting (different text)
Configuration of monthly reports
Support
Beyond that, we are experts that guarantee results.
Anyone that sells a one time SEO service is a scam. It simply cannot be done.
Google rankings constantly change. The algorithm is always updated. Google is measuring monthly activity. You need to be making adjustments, tracking your rankings and reacting to new data if you want to get on top and stay there.
Remember, this is a competition.
Some of your competitors are using SEO services or using similar strategies. You need to watch what they are doing and make the proper changes to jump ahead of them.
So each month, we have a cost for software tools, reporting and professional audits. Then it takes time to re-run audits, analyze rankings and make adjustments necessary to keep you on top and stay on top. We are making changes or adding content to GMB, adding listings or working on your website SEO.
Managing business listings is an ongoing process. New listings can take up to 12 weeks before you get verification emails.
Comparable Services
Mains Street Host - $299 per month
PowerPhrase - $399 per month
WebFX - Start at $425 per month
One Click SEO - $480 per month for 10 months, then $300 per month
Digital Shift - $749 Per month
Growth Friday - $1000 per month, (yikes)
Many of these places are lumping in services that are often not necessary for most businesses. We do not recommend these additional services until we have had a chance to review the ranking patterns in your local market.
NAP is an acronym that stands for Name, Address, Phone Number.
We sometimes use NAP+W which means Name, Address and Phone number + Website.
Because so many businesses have similar names, Google is looking for an exact match of your business name, address and phone number on listing sites and also your website.
Google's algorithm uses this to calculate a "trust" or "validity" score.
Imagine you have multiple listings online:
Smith Trucking, 99 Main St., Chicago, IL 61000
Smith Transportation, 100 Green St, Naperville, IL 61001
Google doesn't know which one is correct, so they just generally avoid ranking this type of business profile. You want every mention of your business online to have the exact same NAP Data.
Local SEO requires accurate listings (citations) in online business directories. This a major search ranking factor for Google.
Data Aggregators
Neustar, FourSquare and Data Axle are the 3 main data aggregators. These services provide data about businesses. Many business listing sites pay these aggregators for updated business data.
This is a great way to get your business listed or updated in a lot of business directories. Some directories will add your business if it's included in aggregator data.
Also, if you changed information or the data aggregators have old inaccurate information, this is useful for ensuring accuracy of your NAP data.
If the aggregators have the wrong information about your business, it hurts your NAP accuracy.
This is a must.
Business Listings
We submit your business to the 25 highest quality business listings sites. You could do more, but it doesn't help. It's better to save some listings for future months, so you show an activity pattern of progress of incoming links and keyword relevancy (which helps SEO).
We will occasionally add your business listing in future months. This is useful for targeting rankings of specific keywords as we can include those keywords in new listings so it passes on keyword relevancy to Google.
Listing Fees
We pay for these fees. All data aggregators have a fee that you can't avoid. We get a small discount for these fees.
The listing sites are usually free, but it's much faster to use software that is connected to them. This would cost you $75 to use a service for the same listings. If you find listing fees or services for cheaper, then it's a low quality listing because we use the primary listing service that most SEO's are using.
The alternative is visiting each site, finding your login and manually updating them one at a time. This takes a long time.
Some SEO services sell a specific number of keywords per month. This is just a selling point to show your are getting something tangible.
We look at all keywords that are used to find your business that get at least 100 searches per month. We build a priority list that depends on the following:
Total searches per month
Strength of buyer intent
Relevance to product or service
Alternative search phrases
Your current ranking
Keyword competition
How close are you to a Local Pack ranking
What matters most is how many website visitors, phone calls, emails, messages and texts you get from searchers.
Being ranked #1 for "corrugated metal roofing" might get you 1 customer the entire year, while being ranked #3 for roofing service could get you 10 customers per month.
Local SEO is a form of marketing. If you think of marketing as an expense, you are either a new business owner or have never tried to grow your business.
Marketing is an INVESTMENT.
All businesses have a customer acquisition cost. This might be signage, flyers, logos, websites, email, SEO, TV commercials or digital advertising. Some investment needs to be made to find out about your business.
Some business have been around for a long time and have built a reputation strong enough to get consistent referrals. Often times a lot of the acquisition cost was spent early in the development of the business.
Good marketing of a well run, profitable business is actually the best investment you can make as a business owner. You will normally see a much faster return on your investment than any form of traditional investment.
Local SEO is one of the cheapest forms of marketing and is always the cheapest form of marketing for our large clients that give us access to their accounting software to perform ROI calculations. You get an element of brand awareness, but most importantly you get people that are searching for your business that are often ready to buy.
In order to determine if you can get a positive ROI on marketing, you really need to know how much operating or gross profit you make on average per new customer. Then make sure you are getting enough customers for the amount you invest in marketing.
Yes, you can. Performing any kind of Local SEO is going to help you get more customers from search.
Here are the basics of what you want to do:
Educate yourself on Local SEO. Its a different strategy than SEO for large brands and global content websites.
Learn about keyword research and find out what keywords searchers use to find your business.
Find a good source of business listing submissions or learn about the best listing sites.
Spend some time learning about SEO copywriting
Spend some time learning about website SEO, page structure, metadata, titles, descriptions, headings (H1, H2, etc), alt data and keyword density.
Write out good descriptions of your company using your keyword research,
Find a good SEO audit, reporting and rank tracking service and review it every month.
Be consistent every month, making changes to copy to match the keywords you want to rank for. But don't replace keywords that rank well.
Upload photos to GMB and listing sites.
Submit your website to 2-3 new listings per month
Dedicated 4-6 hours per month.
Lastly, read our emails, we provide free advice and tell you exactly what you need to do including timely tips, updates on new Google changes and other useful information.
If you don't have time to learn, perform the tasks, or you have a hard time staying consistent, then that is what we provide. And, of course, we will get better results.
Your website has data that is used by Google and other search engines to help rank your website.
There are multiple areas of your website that can provide rankings signals. These are the common elements that need to be addressed:
Website title (in header code)
Meta description (in header code)
Heading tags (H1, H2, etc)
Text of your website
Alt tags on images
Furthermore, there is an ideal structure of the page that helps your business website rank higher in search. Keyword density also plays a role in good SEO. Lastly, your website SEO is a search ranking factor for Local SEO.
As part of our service, we will perform on page search optimization for 5 pages on your website, including the home page and 4 of the highest performing pages. You can provide access to your website, or we can provide written recommendations for your web designer.