Google Local SEO (Search Engine Optimization) is the art and science of getting your local business to rank higher in Google search results, Google mobile results, Google Maps and the Google Local Pack.  
Another benefit of good local SEO is that the strategies and tasks that help you rank higher in Google also help you rank higher in Bing local and other search engines. Proper SEO should also improve your online business presence, reputation and reviews.  This has a major impact on click rates and conversions. 
The common answer is to get your business ranked higher in Google search results.  This is a big part of it. However, the ultimate goal is to get more customers for your business. 
In order to accomplish this goal, there are many important aspects of local SEO that should be considered to generate more business, including:
Improving your rankings for search terms with high buyer intent.
Focus on getting top 3 rankings for local searches so your business is displayed in the local pack, which gets the majority of search clicks.
Developing good SEO copy that is also compelling and increases click through rates.
Designing a website that is attractive, fast, mobile-friendly that entices visitors to contact you or visit your business location.
Establishes a strong online reputation through a good quantity of reviews and a high cumulative review score.
Consistently generating new reviews.
Includes best practices to show that you are an active thriving local business.
Google has over 100 search ranking factors.  Each one of these factors plays a role in how you rank in their search engine. Local intent search results display the local pack and those search ranking factors are different than traditional search rankings. Here are some of the key local business ranking factors:
Strength and relevancy of your Google My Business (GMB) profile.
GMB primary and secondary category.
How well optimized is your business website.
How often your business is mentioned anywhere online
External links that point to your website and the overall value of your business authority.
Relevancy and authority of the websites that is linking to your business website.
NAP accuracy of information on business listing directory websites. NAP = Name, address, phone number.
Quantity of websites that link to your business.
Quantity of new links to your business and quantity of mentions of your business (on social media for example).
Relevancy of keywords in your business listings.
Proximity of your business location. (How close is the user to your business location). 
We spoke with a Google Data Engineer and asked this question. His answer:  Google does not want to rank a company at the top of search results if the company is out of business. It is one of their biggest fears.
Google has no way to really know when a company goes out of business. But they CAN evaluate your online business activity. Google wants to see that you are actively updating profiles, adding content to websites, getting new links, adding information to your Google My Business profile, maintaining accurate business listings,  getting consistent reviews, responding to your reviews and posting on social media.
Also, remember that search rankings change constantly and ranking is competitive. Part of SEO is understanding where you stand and what your competitors are doing.  Then using tactics to respond to changes in rankings that enable to you rank higher for a specific keyword search phrase.
Over time you are continuing to strengthen your local online presence and building a consistently better online profile. One of our clients has over 1,400 reviews, thousands more than any competitor and they will never catch up to them. (Client & location information is removed due to our privacy policy).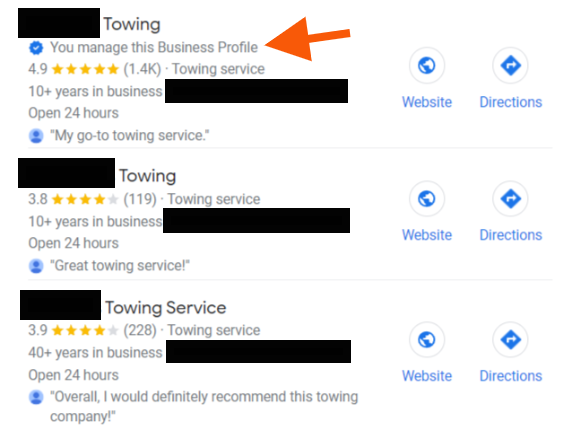 Yes. Thats true. Google uses an algorithm to rank websites. Its a very complex formula. They do not provide information on the algorithm to the public. They only give out basic guidelines.
However, we have been optimizing websites since 1998 and actually started doing SEO before Google was the top search engine. We own several websites that get millions of visitors each year from Google since 2002. 
Over the years, we've learned a lot about the nuances of Google. We've been working as an expert specialist in Google local marketing for the last 8 years. 
We have attended local SEO conferences, listened to Google representatives and we avid are readers of Google Local SEO content.  There are several excellent sources of research on the Google algorithm that guide us. 
Moz is one of the leading Google search engine experts in the world. They did an extensive study on Google ranking factors in 2018.  While there have been some minor changes since then, the results of this research is still valid today. Visit the research results page below to learn more.
Not every local business is going to get a high return on investment in an SEO service. 
Our clients tend to have the following characteristics:
Existing businesses that have a good idea of how much profit they make per new customer (lifetime customer value). And they know that adding new customers from search provides them exponentially more profit than the cost of the service. 
Businesses that have plenty of opportunity to get customers from search in their local market.
Businesses in competitive industries where getting ranked in the top (local pack) takes significant effort and can lead a large number of new customers. 
Businesses that want to rank #1 for highly competitive keyword search phrases. 
Ambitious business owners that want to win and crush their competition. 
If you run a small business that doesn't have a lot of profit per customer or you don't have a marketing budget, then  educate yourself on search engine optimization and consistently work on your local SEO campaigns.  You can read a lot of information on our website and find a lot of great advice by following SEO websites and social media channels. 
One of our clients that track their leads and revenue have produced more than $1 million in the last year from customers that came from Google and other search engines. For most local companies, SEO is the lowest cost, highest ROI form of marketing they can utilize. 
Google Ads is an online advertising platform provided by Google. Traditionally known as a PPC (Pay Per Click) platform, you bid on search terms relevant to the audience you are targeting. 
In recent years, Google has shifted their platform to utilize their artificial intelligence to help target searchers that are more likely to convert. When set up properly, you have an enormous advantage of using their data to find the right buyer persona.  Essentially, they are giving you access to data that would cost billions of dollars to build yourself.  
By nature, a bid based platform is competitive, so the cost of the ads depends on the value of the search term and what other companies are bidding.  
Optimizing Google Ads these days is quite a bit different than even a few years ago.  New strategies allow you to take advantage of their AI, increase conversions and lower the cost to acquire a customer.
The platform has a lot of different options for running advertisements that include:
Search Ads (bidding on keyword searches)
Image Display Ads 
Video Display Ads
YouTube Pre-roll
Product Shopping Ads
Performance Max (mix)
There are also a number of variations of each of these ad types that include:
Dynamic search 
Responsive search 
Branded 
Non-branded 
App promotion 
Product shopping
Showcase shopping
Smart shopping
Contextual display
Topic display
Google network search
Google network display
Managed placement
Remarketing
Similar audience
Google local
Google Maps
Call Only
Furthermore, there are a number of tools that allow you to create audiences and optimize ads based on user behavior including devices and demographics.
Yes. Google has added a lot of great features that help local businesses grow customers. The following ads tend to be the highest ROI for local companies:
Search Ads
Google Maps Ads
Google Local Ads (Google Guaranteed)
Display Ads (Topic/interest)
Call Only Ads 
Shopping Ads
There are also a number of conversion types that can be used to capture customers that include:
Website forms
Website phone calls
Website email
Website chat or messaging
Google Lead forms
Calls from Ads
Call only ads
Messages
Direction Requests
eCommerce
Google has a special ad platform that is a completely different platform than the standard Google Ads platform. Its often known as "Google Guaranteed."  Google Local Service Ads are a Pay Per Lead platform. 
To qualify, you have to apply and Google will screen your company to verify you meet requirements. Google requires that you have operated for a certain period of time and that you have the proper licensing and insurance.  They also perform a background check on your business.
If you are accepted then you will receive a "Google Guaranteed" badge and these ads will normally be at the very top of the search listings in the local area when users search for local services. The ads also display your star rating so this helps provide additional trust to the user.
The big advantage is that you only pay for leads. That means you only pay when someone calls the number or sends you a message requesting service.  You can choose your budget and you will know the cost of the lead ahead of time. The cost depends on service type.  Also when a job is complete, the user is asked to leave a review so these ads help to improve review generation. 
Most business types are for home based services, though there are a few local service ads that cater to businesses.  Here is a current list as of 2022, but they continue to ad service types over time. 
Acupuncture
Animal Rescue
Appliance Repair
Beauty School
Carpentry
Carpet Cleaning
Child Care
Countertop Services
Dance Instruction
Driving Instruction
Electrical - Electricians
Fencing
Financial Planning
First Aid Training
Flooring Services
General Contracting
Garage Door Services
Handyman
Home Inspection
Home Security Services
Home Theater Services
House Cleaning
HVAC
Junk Removal Provider
Landscaping
Language Instruction
Law - Attorneys
Lawn Care 
Locksmiths
Massage
Mover
Personal Training
Pest Control
Pet Adoption
Pet Boarding
Pet Grooming
Pet Training
Plumbing
Pool Cleaning
Preschool
Real Estate
Roofing
Sewage System Services
Siding
Snow Removal
Tax Services
Tree Services
Tutoring
Veterinary
Water Damage Services
Weight Loss
Window Cleaning
Window Services
Yoga
There are a few hidden services within these categories. For example, the General Contractors category opens up a number if different specific construction services.  In the house cleaning category you can also get leads for office cleaning services.  Window services can be used by glass companies and auto glass companies. 
Working with Sourceline Media - A Google Partner Agency