It's tempting to rely heavily on social media for all of your creative marketing in 2018 since its direct, simple, and everyone else seems to be doing it. Not so fast. Don't throw all your eggs into one basket! If your socials aren't moving the needle like you'd like them to, maybe it's time to start brainstorming additional ways to reach your target audience. Cue email marketing!
The Difference
This is so important to understand. While there are ways to convert facebook or social followers into customers, social media often times does not generate revenue as quickly and effectively as other marketing methods.
Also, there is a crucial difference between your email subscribers and your social media followers. Not only do you have more control over your subscribers, but the majority of these people are loyal paying customers. We don't have the statistics to offer, but we know that your audience segments that opt-in For More of your information (and likely for offers from others) are preciptiosly signaling that they are more likely to buy than just someone out of the blue that follows you on social media.
As buyers, these individuals have chosen to opt-in to your business updates because they've already used your services or bought your products before and they're likely to buy again. As consultants we always ask a business owner how they are engaging and re-selling their CURRENT customer base first.
Gain access to a virtual marketing library containing 36 Complete Execution Plans along with community support. Membership provides discounts on services and systems that you're already paying full price for, so this limited time offer can pay for itself with that benefit alone.
By contrast, the majority of your social media followers are not buying from you. That's not to say social media isn't important and that you shouldn't be using it.
First, a person has to know a brand exists before taking action and making a purchase. That's why platforms like Instagram are great for building brand recognition. These mediums are a means for your "foot in the door" where you can offer a higher level of future engagement. We absolutely encourage promoting, interacting and selling via social media.
Meanwhile, we'll tell you without hesitation that email marketing can be faster, foster a one-on-one relationship more efficiently and turn your investment dollars into sales faster.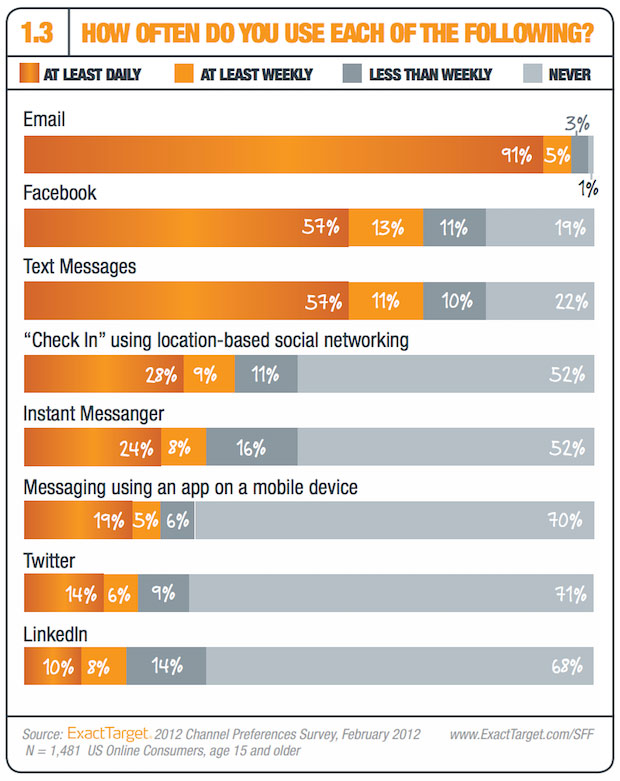 The Stats
On average, marketing emails have a click-through rate of 3.57%. Meanwhile, on Facebook, paid ad campaigns and targeted posts possess a 0.07% click-through rate. Let's put this in perspective; If you have an audience of 100,000 people in email and 100,000 in social media you can reasonably expect 70 clicks when you author a new social media post.
By sharing the exact same information with your well-maintained email list of 100,000 people, you can reasonably expect 3,570 clicks. Social media is so much easier though, and we can create interaction on demand, right? Of course. You'll only need to author 51 social media posts to match the interaction of a single email to your segmented and well-maintained email list!
Roughly 60% of companies and internet marketers believe email marketing outperforms social media in terms of ROI. According to a recent study conducted by OptinMonster in 2018, email continues to be the most widely used channel with 2.6 billion users worldwide with diverse demographics.
Reach
The best way to understand the potential reach of email marketing is to take a look at our own habits. Every morning, we extend a weary hand to the bedside table.
We reach for our phones to turn off the blaring alarm and then proceed to check our inboxes to make sure the boss hasn't sent us an urgent message while we're busy pressing the snooze button.
Perhaps, we indulge in a little Insta scrolling and retweet our favorite comedian or politician, but most of us greet each new day with a trip to our email inboxes because that's where the important stuff lives.
In fact, 58% of people check their email first before meandering over to Facebook to watch cute cat vids, conducting a Google search on where to find the best cup of coffee in town, or checking the weather. See the potential here?
Market Yourself in the Right Places
It's important to understand the purpose behind each platform you're using as a business and determine which avenue is best for promoting/selling.
People use social media primarily to communicate, find entertainment, and connect with others. They're usually not looking to be bombarded with sales promotions, they're watching a funny video or stalking an ex.
You can get a little pushier when it comes to email marketing. People are generally more receptive and inclined to check out your business's promotions when it comes in the form of an email.
That's not to say you can't sell on social media. It's just a different realm. You need adopt a certain language and advertising style when promoting something on Facebook or Instagram. It's one that takes a bit more creativity and flair.
Conclusion
Social media and email marketing are two completely different animals. While social media is great for engaging with your audience, email marketing is generally more efficient in direct conversions and generating more traffic to your business.
Acquiring 3,000 followers on social media is not the same as gaining 3,000 email subscribers.
When it comes to increasing growth and generating more brand recognition, both social media and email marketing play an important role. However, email marketing might be the most efficient way to drive sales. Social media in spite of its appearance is by far a more passive communication medium than email. Statistically anyhow.
How would you like to master the art of email marketing in as little as ten days? We're not offering "swipe copy" that thousands of others are using like a book of Adlibs.
You'll learn how to leverage the power of email marketing for your business, and produce engaging emails that scream to be opened (before your audience checks Instagram or Facebook in the morning).
We'll provide you with TWO 5-star digital marketing certification courses (with an actual certificate), and provide you with a 30-minute consult with one of our experts to review and fine-tune YOUR plan as it applies to your business. Your cost is only $695.00.
Sold separately, you may also opt for one certification course for $375 (normally $495) and our 30-minute consult is $125. Choose all three and immediately save $180. Click the button below to order:
Certified Customer Value Optimization Specialist
Learn what it takes to acquire and demand the attention of your future customers using proven strategies to engage and communicate value for your business. Spend less time and money acquiring valuable leads for your business. How? Building an optimized conversion funnel is key. Learn to generate and convert your leads into real paying customers efficiently with a cost-effective toolkit that you can use again and again. In this mastery course, you will gain valuable skills on how to architect a sales funnel that both maximizes immediate average order value and reduces overall acquisition costs.
Certified Email Marketing Specialist
While you may not think it, email marketing is at the top of the list of the most effective forms of marketing activity, consistently generating the highest ROI. We've been told that social media is a key player, but effective email marketing is still one of the most efficient and painless ways to increase engagement and transform prospects and subscribers into loyal customers. Remember, you don't own followers on social media, but your subscribers are more malleable. Email marketing allows you to take control of your business and your profits with clear deliverable results.
Crafting the perfect email takes more than throwing together a few links and images.
In this email marketing mastery course, you'll learn the three types of email campaigns and how and WHEN to use them. We'll also give you the tools to confidently create a promotional calendar that gets you going in the right direction with your targeted messaging. You'll learn to save time by creating automated and sequence messages that allow you to keep up communication and engagement even when you're clocked out.
30-Minute One-On-One Coaching Session
We'll ask you to document your strategy as per the direction provided in your certification courses for our review. Before our scheduled call we will evaluate your strategy to ensure that you've translated the concepts of the courses to your business precisely. We'll discuss your email and sales copy as well as your various offers. Our team will contemplate possible adjustments or add-ons to make your offers "sweeter" to attract even better engagement and conversion rates.
Additional coaching and 8 additional certificate courses are also available. Just ask.
Click below if you're ready to get started today!