If you have a Facebook page for your business, you have all the tools to build a strong community. Regardless of whether you're yet to hit 100 followers or nearing a total in the hundreds of thousands, these are the people who have chosen to actively seek your input, so you must give them enough reasons to stay interested.
This might mean going easy on the hard sell. However, it's this tentative, almost hesitant approach to social media that prevents a lot of brands from getting a return from their activity on platforms like Facebook. They simply don't understand how to convert facebook followers into customers that buy and even evangelize their products.
There is a misconception that social and sales doesn't match. In fact, this couldn't be further from the truth. Facebook is now selling more ad space than ever before, partially geared towards getting people off their own pages and onto those of their advertisers. The end goal is to help them drive leads and sales, which goes some way to counterbalancing the sizeable amounts that brands will dedicate to the platform's various ad options.
Even if you don't buy ads on Facebook, any investment of your time on the network must bear fruit somewhere along the line. It's with that in mind that we take a look at ways of connecting with your Facebook community. Then turn Facebook followers into customers who may prove to be some of your most loyal customers in the long run.
Set the Scene With a Call to Action
To get your Facebook audience converting, you need to provide the channels for them to do so.
Let's look at the options presented by the Dollar Shave Club – a global firm selling male grooming products.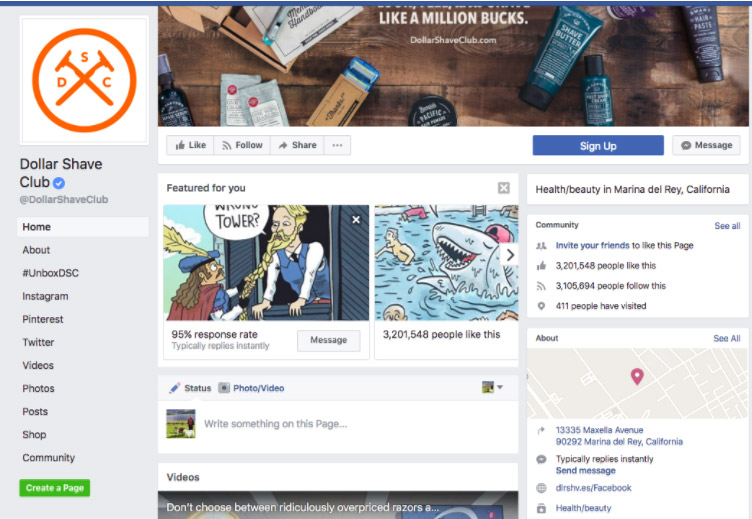 Right away, there's a sign-up button at the head of the page. We have the company's website in the bottom right, just below its physical location. There's even the option to shop via Facebook and checkout on the Dollar Shave Club site.
Now, this is a well-known brand. Say you're a smaller outfit with less of a household billing. Your domain could be a little more obscure, or your SEO might be a work in progress. Therefore, you need to provide every bit of information possible to give the user a chance of finding you away from Facebook.
Facebook Posting
Next, let's look at your posting strategy.
Start with posts that seek engagement, rather than sales. These posts could:
Show customers using your product or service
Article explaining benefits of your product or service
Ask questions to the community
Tie your offering to a trending topic
Show your team working in the background
Make a personal post (be a human not a company)
Almost any kind of original image or video
Focus on visually striking posts that promote your products. 
In the below we can see Trek bikes merging a congratulatory message for one of their brand advocates in with promotion of their MTB range, complete with an image to pique the interest.  It's related, interesting with a visually pleasing image while also subtly introducing products.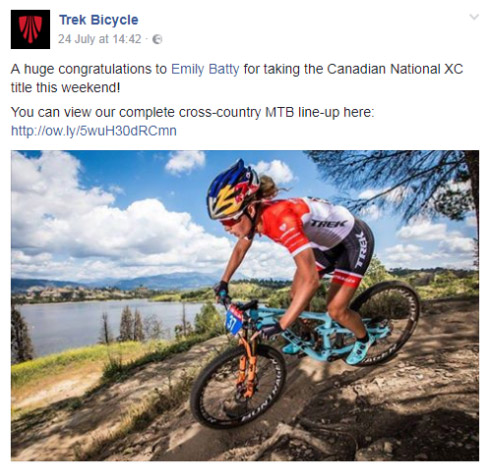 Timing is also key here. Within every sector and every market there will be key selling periods throughout the week. You may already know the key times from your e-commerce analysis, so have these synchronized with your Facebook posting.
For instance, if you have products which attract a high order value, people may have a propensity to shop with you after 7pm – i.e when they're home from work and have the time to conduct research. Posting at this time is an effective way of catching them at the opportune moment.
Journey Mapping
Lastly, you need to provide a clear route to purchase, regardless of whether you're on the hard sell or simply creating conversation. We talked earlier about supplying contact details, but this is even more advanced.
Take a look at the way GoPro distributes a post about a free piece of software to over 10 million followers while still finding a way to plug one of its rugged cameras.
After clicking on the link provided, the user is taken to an area of the GoPro site which also contains items for sale. We get a slight hint about this with the arrow pointing to the tab for the shop.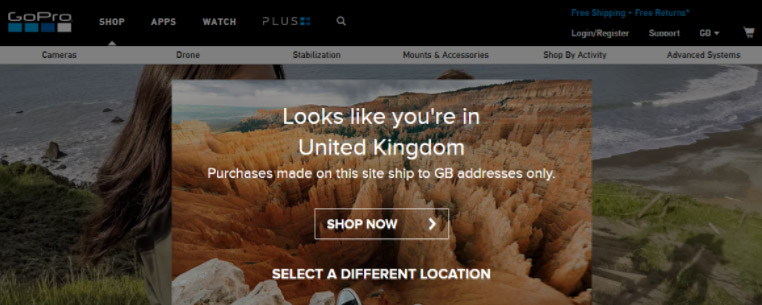 A few scrolls later and GoPro is already paring the new software with one of its latest products, as well as an 'add to cart' button for shopping at speed.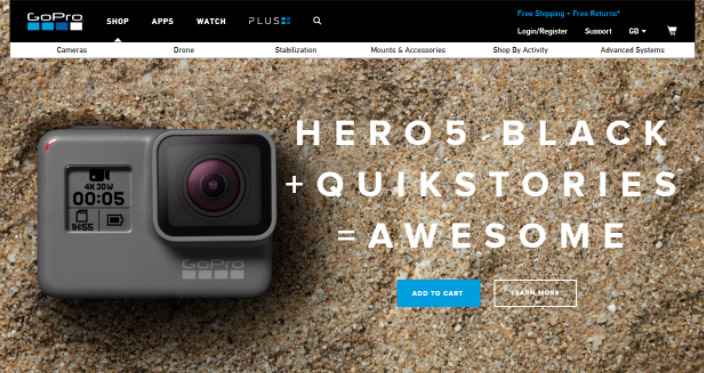 This type of post is very indirect. The app provides a solution for the user. Then if someone is interested and likes how the app functions, they are taken to an area that pairs the app with the product.  
Overall Strategy to Convert Facebook Followers
The key to conversions is the understanding that people aren't on Facebook to buy products or services.  They are on Facebook to find out what is going on in the world. They share content that is interesting and fun.    That's why the hard sell doesn't work.
To take advantage of Facebook, your business needs to tell a story.  Demonstrate how your products make their life better.  Generate interest and build followers.  While it might take a number of posts, your customers are learning to gain trust in your brand.
After some trust has been established, present your offer with a call to action.   This can be through shared posts or facebook advertising.  Retargeting people that read your posts is a great way to get conversions.
Digital Marketing Workshop and Community
If you are an individual marketing professional and want to learn more about Facebook and digital marketing techniques, then check out DigitalMarketers new Labs Elite program. Marketers gain virtual access to workshops and on-demand training. You also gain private membership to the Digital Marketer community where you'll where you will mastermind with other members. (The ability to bounce ideas off of fellow marketers is priceless).
Facebook advertising solutions allow businesses a high degree of targeting (and retargeting) with a low customer acquisition cost.  If you need help converting facebook ads, contact us and check out information on facebook advertising optimization.