I recently read a statistic that blew my mind: 46% of all Google searches are seeking local information. That means nearly half of everyone who uses Google is looking for something nearby – whether it's a restaurant, a store, or a service provider.
As a local business owner, that's a huge opportunity to connect with potential customers. But how do you make sure your business shows up in those search results? And how do you show up when you cover a large area? One critical factor is mastering Google's service-area listings.
In this article, I'll share everything you need to know about creating and managing a service-area listing on Google. We'll cover why accuracy is crucial, how to set your service area, and tips for improving your visibility in Google Map Packs.
Whether you're just starting to set up your listing or looking to optimize an existing one, understanding Google's service-area listings can help your business connect with your audience and grow your local presence. So let's dive in!
Key Takeaways
Service-area listings are essential for businesses without a physical location.
A complete and accurate listing with positive reviews and high-quality local citations can improve local search ranking.
Responding to suspensions and ensuring consistent and accurate information can avoid suspension.
Service areas can affect local search rankings and visibility for users searching outside designated areas.
Getting Started in Google My Business
You can create a service-area listing on Google by signing into Your Google Business Profile Manager and creating a new business. If you are logged into the Google account and you already have a listing, then you simply go here:
If your business is in that account, it will immediately show up. If you own multiple business locations, you will see them listed.
Next, select the business location and go to the Services section. Make sure to add all the services you provide and save the changes.
You should then go through the rest of your profile if you haven't done that. It's important to ensure that all information provided is complete and accurate to rank in search. I won't go into details here. If you need help creating a great Google My Business Profile, see this article.
Setting Up and Managing Service-Area Visibility
Managing service-area visibility is crucial for attracting potential customers and improving local search ranking. One way to do this is by selecting the correct service area radius. Google allows up to 20 service areas within a two-hour drive from the business.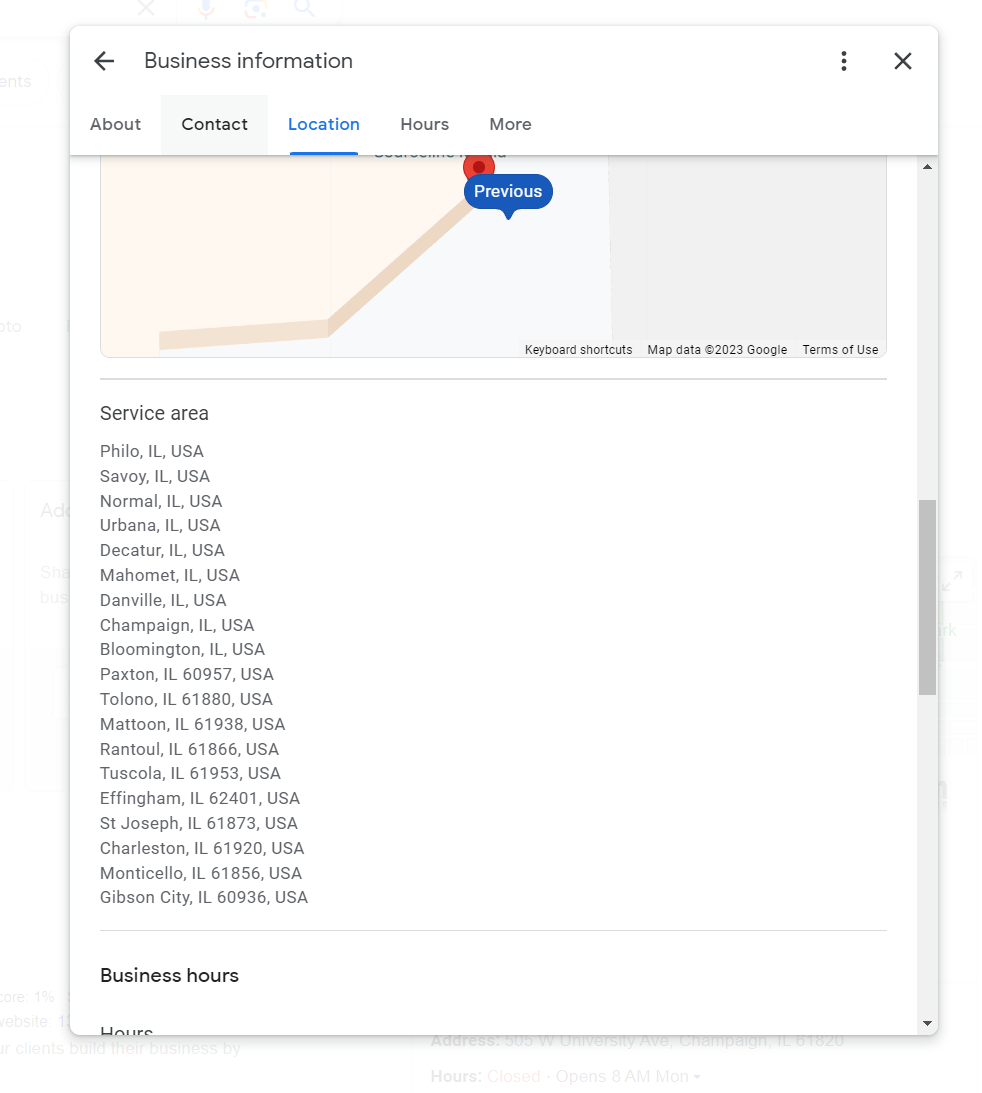 Here's how you can list these areas.
Go to Profile and open up the window.
Go to the Location tab.
You can add cities or counties to this list. In this case, I just added cities because I wanted to focus on a close area and a lot of smaller cities that surround the primary cities. If there are are too many cities, then use counties.
Improving Service Area Results with Citations
Another way to manage service-area visibility is by building high-quality local citations.
Local business citations are an essential component of local SEO. These citations refer to mentions or listings of a business's name, address, and phone number (NAP) on various online platforms, directories, and websites. These citations help establish a business's online presence and credibility within their local community.
When businesses have consistent and accurate citations across multiple platforms, search engines like Google are more likely to trust and rank them higher in local search results. This increased visibility can lead to more local customers discovering and engaging with the business.
Citations not only improve a business's online visibility but also contribute to building trust and credibility. When potential customers come across consistent and accurate citations on multiple reputable platforms, they are more likely to view the business as reliable and trustworthy. This can greatly influence their decision-making process when choosing a local business to engage with.
When creating these citations, make sure to list and mention the different cities that you service. Anytime there is a 3rd party mention of a city when related to your service, it will strengthen your search results for searches in that city.
Adding Cities in Service Area to Your Webstie
You can build as many website pages as you want. So, its often a good idea to mention your service area multiple times. This includes the following:
Mention the key big cities near the top of the page
Create a location web page for each major city
Have a list of cities you service on your contact page
If you never mention that you provide service to Naperville, IL, then how is Google going to know to show your service to people in Naperville?
Conclusion
By creating a service-area listing, businesses can ensure that they're visible in Google Map Packs and reach their target audience.
Moreover, accurate information about your business is crucial for establishing trust with potential customers. Making sure to mention all key areas on GMB, Citaitons nad your website will certainly help you rank higher.
With the right strategies, businesses can improve their visibility and attract more customers to their services. If you're not sure what strategies I'm talking about, get in touch and let's talk about how we can grow your business.