Google My Business is one of the most underrated and underutilized assets for any local company.   It was launched in 2014 as a solution to separate local business search from national search. People looking for businesses in the area didn't need to always see Amazon products or large content sites.
Google had a problem.  They always ranked websites based on content and external links.  Big companies with large budgets could produce new content and spend larger budgets on link building   It got to a point with local search where Yelp and large business directories would rank #1 for any local business search terms such as "find a roofer" or "auto repair Nashville."
Local services, shops, restaurants or franchise location could not compete with the big boys that had large marketing spends.  If you owned a local business, it was difficult to get found in Google.
Google realized that their users didn't want to go to the big chains or local business websites.  They realized, users were just skipping Google and going right to Yelp when they were looking for a local businesses. That's when they decided to change the game.  This was really important because Google Ads relies on people searching for businesses so if people were skipping Google, then no ad revenue!
Google My Business is Born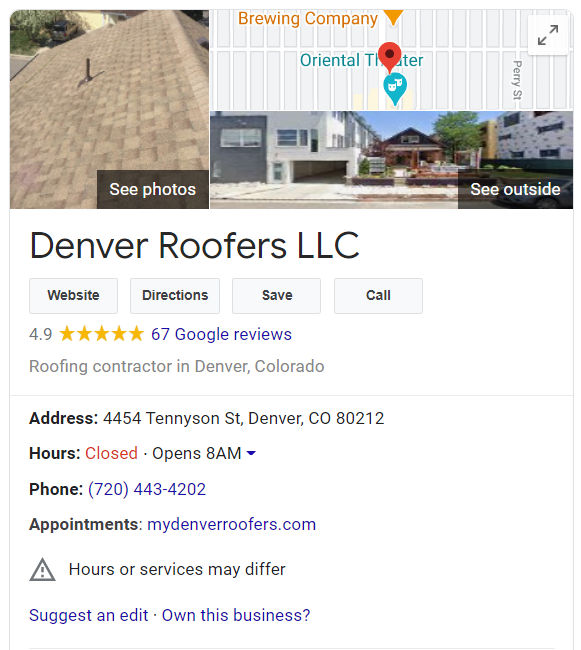 Google My Business is a platform where a local business can sign up, claim their business profile and confirm their location.  Businesses can provide text information, logos, photos and videos about their company.  (Here is a quick link to Google My Business)
Google has a process to validate your business by sending out a code in the mail.  For users, it provides a separate area where you can see media and information about the business. Users can read or write online local business reviews.  In many ways, it was Google's version of Yelp.
The text information that you write in your Google local business profile is critical. This text is a one of the key ranking factors for local search listings.  This includes  both organic search results and the local pack map results.
So the first no brainer tip is to take your time and optimize Google My Business if you want to generate leads. Taking even an extra hour of research can make a big difference in search results.
That's just one example. There are several strategies that can help you rank better in Google and generate more leads.  Below, I will provide a step by step guide on how you can approach this platform and get better results.
Of course, this is what we do for our clients and we are undefeated when it comes to increasing local search rankings.  If you decide you need some help, start by requesting a free business report. 
Step 1 - Research Critical Keywords for Search
Ranking in Google starts by understanding what keywords people use to find your business.  A lot of businesses skip this step and just start writing blindly, but if you don't know how people find your business, you will miss out on potential leads.
For example, lets look at a roofing company. You can also find one by searching for roofing, roofer, shingle repair, roof replacement, roof gutters, asphalt roof, roofing contractor and hundreds more.  Even very specific keywords can be useful.  We just had a client get found for the term "copper roofer."  This term was searched only 12 times in the last 3 months but it led to a quote request that led to a massive contract.
While brainstorming is encouraged, there is no way you can possibly figure out every good keyword.  There are better ways to find keywords and great tools available.  A good place to start is Google's own Keyword Planner Tool -- If you already have a Google Ads account then this is a great resource.  If you don't have a Google Ads account then its easy (and free) to sign up for an account. You don't have to use it. Just start an ad account to access the tool.
There are a few other well known keyword research tools. Ahrefs has a blog on free keyword tools that is a good resource. Wordtracker has a free version of its tool that works well.
You are looking for volume of searches and relevancy to your products or services.  For our business, people can find us searching for "seo" but thats a fairly broad term.  Even though it has lots of searches, a  search for"local seo services" is more targeted and also very high intent.
Intent is exportant.   Just a search for SEO is going to primarily be people wanting to learn about it.  A search for  "SEO services" or "SEO agency" will bring in users actually looking for a business to help them.
Make sure the high intent keywords are included in your list.  Write them down and also write down how often they are searched.
Step 2. - Write out Descriptions
When viewing Google My Business on a desktop or laptop, the dashboard will have menu that includes a section called "Info."   You want to spend some time here.
These descriptions are a major part of Google's search ranking for local search.  Do not skip this step. The biggest mistake we witness is business owners and manager  fill out this part quickly with almost no thought. We often see some sections left blank.  Please do not leave areas blank. Fill out everything.
The core area in Google My Business is the description.  This area needs to be keyword rich, but make it sound natural. Don't just spam keywords.  You will get 750 characters to write out your business descrption so make it count. People read this area so you want to describe your products or services using keywords based on your research. Also try to differentiate yourself.  Try to explain why they should use your business and include a call to action (Visit our website, come to our location, call us).
They also have a section for services.  Out of the last 100 GMB optimizations we've completed, about 85% of businesses leave this blank.  That means that is likely your competition skimped on this area and by filling out this information you will have an edge.  Separate out services with different titles. Each service heading gives you a box to describe the service and utilize your keyword research.  I would recommend at least 5 different services if possible. Some of our clients have 10 or more.
If you own a shop that sells products then I would still add at least 1-2 services. Even if that service is something like delivery or financing options.
But for local retail stores, you can add products.  You get a spot for product images, titles, descriptions and price.  You can also link to an online store.  Sometimes the right search will even display your products right in Google. (The image to the right shows how Google displays a shoe store where they have included links to products at the bottom).
Unfortunately, the product section is underutilized by most businesses.
Step 3 -  Add Media - Logos, Photos and Video
Add as many photos as you can.  To start, I would add at least 25.  It gives customers a better idea of your business.  Actually do a search for your business and look at the listing so you understand how those images are displayed.  Look at the main search and also map searches.
Post images of the people that work for you, people in uniforms is ideal.  Photos of your employees can tell a story, especially if you have photos of them having fun, laughing or smiling.
You can take images of the inside and outside of your building or office.  Do you have new technology or equipment? Add those photos.
In some cases, you can use photos of your customers to show users the type of people you service.  We had a local gym that showed photos of their youth exercise program and was able to get signups from their Google images and posts.
Step 4 - Read and Respond to Online Reviews
Online Google reviews are the most powerful marketing tool a local business can leverage.   You can say anything you want about your business on Google My Business or on your website, but potential customers pay close attention to what third parties say about you in the Google reviews.
In order to get the best reviews, you have to ask your best customers for reviews. Put it this way. If I had a business do one single thing, it would be writing out their complete GMB listing and spend time every week sending out review requests.  This effort alone can grow a local business faster than spending thousands on advertising. I say that as someone that makes a living managing advertising for clients.  While both are critical and recommended, I would rank review generation as much more important in this day and age.
And almost as important as generating reviews, you need to quickly respond to any reviews. Positive or negative.   Review response text and speed is a Google ranking factor and a quick, detailed response looks much better to potential customers.
A response to a review is another opportunity to add SEO keywords.  Don't just say "thanks."  Try to be detailed.
"This roofing company was great and repaired my roof quickly"
Your response could be something like:
"Thanks for contacting our roofing company.  When customers have areas of their roof that could potentially leaks, its important for us to review the roofing material and schedule a roof repair.  A leaking roof ca cause much more damage, especially if its over a living area.  We were able to replace your roof edge material and asphalt shingles efficiently enough o ensure you never have to deal with a water damage from your roof. 
As you can see, we mention keywords related to the business and explain HOW the business helped the customer.   This review response will strengthen future searches of:  roofing company, roof repair, leaking roof, roofing material, roof edge material, asphalt shingles and water damage from your roof.
Step 5 - Online Business Listings
Local business listings are important for local SEO and Google search optimization. Google uses third party listings to validate business information. They also want to see accurate contact information known as NAP (Name, Address, Phone Number).  Additionally, links still help you rank better and having your business listed on additional listing sites (often called citations), you are adding more external links to your business website.   Here are some of the best places to get listed.
Yelp
Bing Places
Whitepages
Merchant Circle
Better Business Bureau
YP.com
Manta
YellowBook
Merchant Circle
Superpages
Kudzu
Angie's List
Of course, we recommend all the major ones.   That's why we offer a free tool to manage key listings with options to upgrade and add over 80 new listings to yoru business.  If you want to get started, then we recommend requesting a business report and access to our online toolkit that includes our free listings builder.  You can start here to request access.
The keywords in the descriptions will also help you rank better in Google. We recommend writing slightly different descriptions on these pages than you do on Google.
Most of these sites will not produce a lot of traffic, except but they do occasionally lead to web traffic or a phone call. Yelp and Bing tend to be the best alternatives to Google.
Along with Google My Business, its good at add new photos, fresh text content to these listings.  Google is monitoring your activity.
Our software will sync to over 80 platforms which makes it much easier to make changes and add information without having to log in to 80 different sites. This would take hours and hours each month.
Another advantage of managing listings with software is that you are locking these listings. No one can claim your business and change your information.  While its not common, there are stories of businesses that had their hours or contact information changed by competitors.
How Much Does This Help You Rank Better in Google?
Google My Business is important so a lot of research has been done in the marketing and SEO industry.
Moz did a study on local search ranking factors.  In the image below the left are for the Google Local Map Pack (Lists 3 businesses below the map in the main search results). The  list on the right is for organic search results often the results that show up on national search.   We've highlighted the ranking factors that are impacted by Google My Business and Local Listings.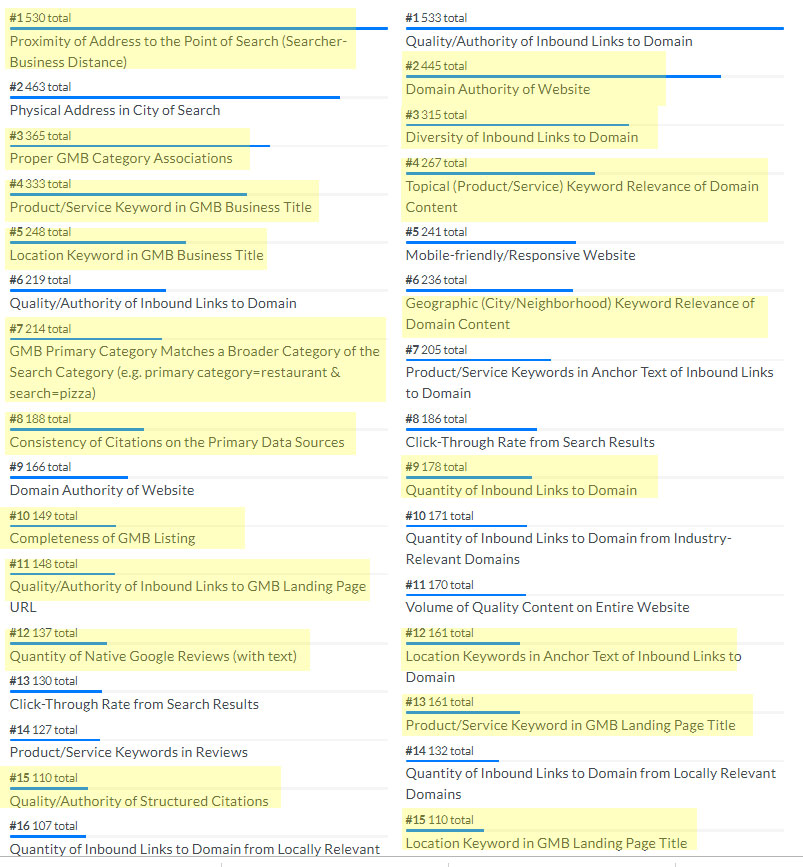 When you spend the time and effort to build a great  Google My Business profile, the results can be life changing.  It could easily be the best ROI for any local business.