Updated 3-25-2019
Every search engine uses a different formula, which is why the results will be different between Google, Yahoo, Bing, Ask.com and other search engines. These formulas, known as algorithms, are constantly changing as the search engines strive to achieve improved results. So understanding how the algorithm works is the first step in learning how search engines rank websites.
(Note: if you need to know how Google ranks local businesses, please see this article)
Anyone that owns a website wants to rank well in search engines, especially Google.
The process of improving your site's search engine rank is known as search engine optimization, search marketing or SEO for short. Because search engines are constantly evolving, it is important to stay informed of these changes in order to modify your on site optimization and SEO strategy.
To understand how to optimize your website for search, you must first understand how a website gets ranked in search engines.
How Does Google or Other Search Engines Rank Websites?
There are certain basic factors that all the search engines use to help value a site and propel that site to the top of the rankings.
The perfectly optimized web page will have the right blend of keyword usage and high quality content that flows naturally.
The website will also have a lot of natural backlinks from external websites. The search engine uses this information to determine which sites get ranked the highest.
The key components to SEO are:
Search Engines Love High Quality Content
Search engines love awesome content. Google, in particular, is very kind to web pages with excellent content.
Years ago, many websites would try to game search engines by packing keywords on a fairly light page. And it would work. These days, this type of page won't come close to ranking. Search engines figured out that these pages were not useful to visitors.
So if you want a page to rank well for a certain keyword phrase or set of keywords then create a great page. What makes a great page?
The page really answers the question or topic of the search. Its informative and doesn't stray from the main topic.
Includes original content with plenty of text. For any content page, we advise 1000 words at minimum. Shoot for 1500+ words if possible.
Use simple, easy to read sentences. Break up paragraphs. (It has an added benefit of being easier to read, especially on mobile devices).
Utilize headings to break up areas and sections of the website.
Include multiple unique images and/or videos throughout the page.
Low quality websites won't spend time building great pages. So if looks like you put effort into building a great page, then Google with reward you. In recent years, we've noticed web pages with minimal backlinks still getting high search rankings because the content is superior.
Google also understands user intent. So a high quality page will often have a longer time on page and better overall page metrics. This also helps high quality pages rank better.
Note About ecommerce websites: Search engines understand that product descriptions don't often require thousands of words of text. Product pages benefit by having strong titles, clear descriptions and as many unique images or videos as possible.
Building Quality Natural Backlinks to Your Website
One of the most important aspect of search engine rankings is to get quality websites to link to your website. This is also the most difficult and time-consuming task of SEO. Search engines believe that when good websites link to you, your website must provide valuable content, therefore it's trustworthy and deserves a higher ranking.
In the past 7-8 years, it has become increasingly important that these backlinks are natural. In other words, you earn the link.
Obviously, having great content helps promote other sites to link to your page. But there are also a few tricks to gaining exposure that can help you get quality links.
Using a cheap service that gives you thousands of backlinks from very low quality websites can actually hurt your search engine rankings. Google developed the famous Penguin update in response to spam websites that ranked well by building massive quantities of links. It's a long, complex topic, so to keep it simple remember one important concept: A few high quality links are much better than thousands of low quality links.
Anchor Text in Backlinks
The words that are used in a link are known as anchor text. So the words "how to rank in google" with a link pointing to this page would be an example of anchor text.

Many years ago strong anchor text backlinks worked well for targeted pages, but search engines are smart enough to understand this practice was abused.
Having too many targeted keywords in anchor text can be bad for your site. Unnatural anchor text usage was also part of Google's Penguin update.
Generally, a few links with strong anchor text are good, but even basic links work well.
Backlinks that link to your website name, like domain.com. Also, links to your brand name are helpful. Even generic text links that say "click here" or "link" or "read more" are effective. Search engines realized that sites were manipulating rankings by using keyword heavy anchor text, so this has become less of a factor in ranking for the specific keyword.
Diversity in anchor text is critical. Too many pages with the same exact keyword anchor text looks artificial and will hurt the page's ability to rank.
On Page Optimization for Search Engines
The content on the page will include a combination of visible text, images, video, music or other media. An optimized website will also have basic metadata that to help determine how your site ranks. The combination of keyword usage in your website and metadata will affect your ranking.
When search engine marketers perform on-page optimization, they are usually trying to help the site rank for 2-4 word keyword combinations. These keywords are used in various places within the web page such as headings (H1, H2, etc), paragraphs, lists, image alt data and metadata.
Metadata includes the page title that is found in the <title> tag in the website's HTML code. The meta description is found in the <meta name="description"> tag.
The title is displayed in the browse tab and is the link listed in search engines. The meta description is a brief summary of the page you provide that is approximately 160 characters. This description is normally found as part of the search listing, but Google will often use a snippet of the web page, as seen below.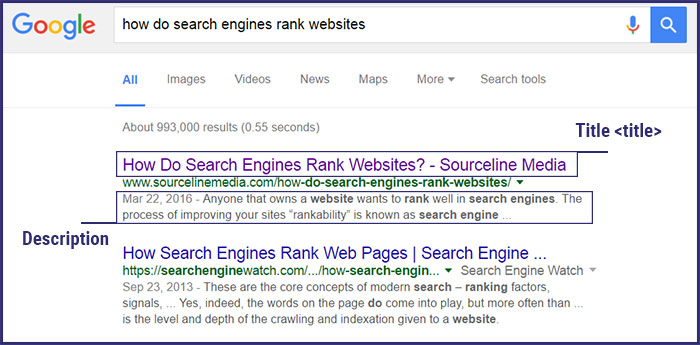 It is critical to analyze the targeted keywords and optimize keyword usage on each page. However, like everything else in the search world, you don't want to go overboard. A high keyword density and your site gets penalized for keyword spam. Too few keywords and your site won't rank high for those searches.
A balance is needed, but most search engine optimizers understand the optimal usage.
Additional Search Factors
There are a number of other smaller factors that are still very important for ranking well in Google. When combined, they can help a web page rank better.
Page load Speed – A slow loading page can hurt your rankings, so work on getting your site loading faster.
HTTPS – Google provides a small bump for sites that use the secured https:// protocol.
Visitor Usage – This can be engagement metrics, site usage signal, CTR of search queries, etc.
Search Engine Rankings in Summary
When asking, "how do search engines rank websites?" The answer isn't simple. These main factors discussed above are only the tip of the iceberg. There's more to cover than what we can possibly write in an article. This is why you see so many courses, videos and books on SEO. There are many large companies like Moz and big publishers like Search Engine Land that are dedicated to the ever-changing topic of search engines.
Search engines are complex, using many variables, and they are constantly changing. In order to learn how to rank well in Google and other search engines, you will need to spend some time reading about SEO best practices. Make sure you are paying attention to current optimization trends. Acceptable SEO techniques from 5 years ago can actually do more harm than good.
As 20 year veterans in digital marketing, we have sent millions of visitors to our client websites. We provide a variety of SEO services with a specialization in Google Local search for local area businesses. You will find links to our services in the top navigation.
Learning Search Engine Optimization is one of the best ways to generate free organic traffic (It does have a cost in time and some tools that are worth investing in to save time). If you are a local business, then you can start with a free Google Local SEO audit and check your Google rankings.
For content websites, view these helpful guides:
Beginner's Guide to SEO – Moz
Google Search Engine Ranking Factors in 2022 – Monster Insights
If you are unsure if you need to work on your website's SEO, then reach out to us and we can point you in the right direction.