Over the past 5 years, the ranking of your local business in Google has changed dramatically. I'll go over a quick history and then cover the major search ranking factors. I'll also explain why optimization is actually a continuous process. Gone are the days of hiring an SEO guy to get your business website ranked and then do nothing for 10 years. The game has changed.  Find out more below.
SEO - The Early Days
The core factors for SEO have always been keywords on the website and links from external sites. From 2000 to 2010, Google (and other search engines) consistently fought spam from SEO services trying to game the system. SEO's would buy thousands of links from low quality websites and use black hat techniques to spam keywords all over their web page. This worked for a short time.
From 2000 to 2010, Google made a lot of changes, but SEO professionals often stayed ahead of Google and could usually find ways to help clients rank. Soon, Google found more effective (and complex) methods to rank websites that made it much harder for people to "game the search engines."
Google Panda and Penguin
Around 2011, Google implemented the biggest change in its history. Two major algorithm updates known as Panda and Penguin. The history of these changes is well documented. The easiest way to explain the impact of Panda/Penguin is that poor page layouts and bad quality external links would penalize sites.  Your website would drop in rankings. Even websites that did nothing wrong got hit hard because it shifted the way Google viewed websites. The end result is that site quality made a bigger difference than before.
Local Search Changes
From 2012 to 2014, Google started changing results based on "local intent." If someone was searching for "roofing service near me" they saw local results instead of a list of shingle manufacturers and Amazon products.  In 2014, Google implemented the Pigeon update which was the major shift in local business search.
Also in June 2014, Google launched the Google My Business (GMB) program which published information about local companies. This allowed them to claim their business listing and add information much like a Facebook business profile.  GMB changed the game for several reasons. Your website use to be the only way Google could learn about your business and it would factor in the majority of search signals. GMB and local search algorithms added new core ranking factors, such as:
Text copy in your business description
Proximity of the user on the map
Reviews, review text and review response
Posts, photos, videos, products and services.
The Local Pack
Moving forward, GMB has provided more places in your profile to put detailed data.  Form fields allow you to provide data about business hours, services, products, business descriptions. You can also upload logos, photos and videos.
The biggest visual difference with GMB is that Google displays a completely different kind of search results. Local search is now displays the "Local Pack."  These listings are also known as the map pack or 3-pack.
This is the 3 local map listings at the top of page, usually just under the text Google ads. Google has experiment with showing different styles including 4 and 5 listings.  The last year, we almost always see 3 listings and sometimes a 4th if they display a sponsored ad. (This ad spot is often a good source of leads).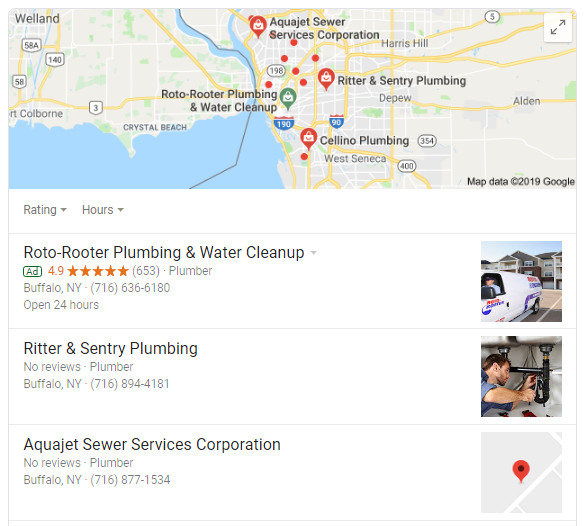 Local Ranking Factors
Over the years, ranking factors for area businesses and franchise locations have become much more complex. Moz, one of the leading search engine experts in the world, has done some extensive research on local search ranking factors in the past few years to help us marketers learn how to we can help local businesses rank higher in search.  We call this Local Business Presence Optimization because its much more advanced than "SEO." Here is a highlight of key factors from this research: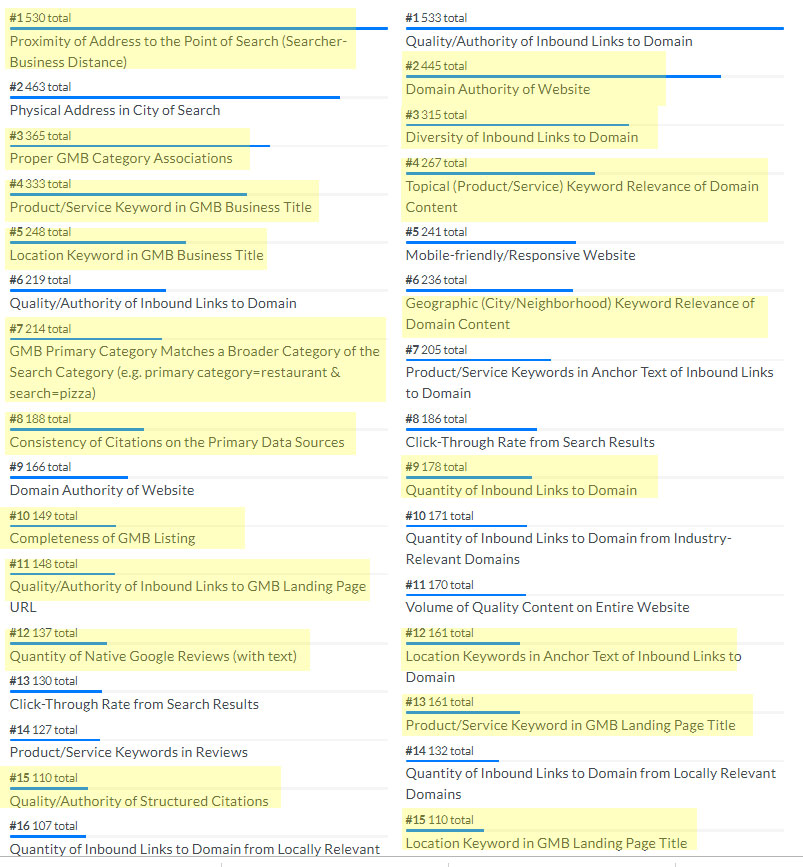 There are over 100 factors that impact how you rank in the Local Pack. And then a similar set of 100+ factors that are slightly different for organic results below the pack. Ideally you will rank high in both areas. The key factors to pay attention to:
Proximity
Most business will not be able to change their location. However, proximity is extremely important so that is why I have to mention it.  The closer you are you to the individual searching, the more likely you rank higher. Even if you are strong in other ranking factors.
If you plan to move or open a new office, then pay attention to location. As an example, we are location in a twin city so name searches of two cities are common. We helped a construction company open a new office very close to a high end housing neighborhood and they got a new job within 24 hours after adding our optimized listing. Google search analysis played the largest role in determining the new location.
GMB Profile
Text used in your GMB profile is critical for search rankings.  This is true of all other business listing platforms like Bing, Yelp, Manta, SuperPages and others.  For GMB, this includes:
Primary category title
Secondary categories
Business description
Business services - product title
Business services - product description
Captions on photos
User review text
Review response text
Completeness of profile
External Links
This used to be a more important factor in search rankings, it no longer carries as much weight in local search. So while it doesn't pack the same punch, having good local links is helpful. Google looks at the quality and content relevance of the external linking domain. Anchor text plays a small part. Links within text of an article are effective. Good sources of external links:
Business listing websites
Niche websites for your industry
Industry related blogs
Associations, organizations or non-profits related to your business
Local community website for your city location
Keyword Optimization
You have to take time and do the research. There are usually hundreds of keyword combinations that are used to find businesses. So you need to know the following:
Which keywords have the most search volume?
Which keywords describe your core service or product?
Which keywords describe your most profitable keyword?
Keywords with the most searches aren't always the primary keywords for targeted optimization. It's often better to be ranked #1 for the secondary keyword for a profitable service then be ranked #18 for the keyword with the most searches. One of our clients gets 70% of their revenue from a service that is 10th on their list of relevant searches.  It's a lucrative, high margin type of service so we get the most value when ranked #1 for that exact keyword phrase.
Keyword optimization is a constantly evolving process. Rankings change every day. We track average rank and then do analysis on ranking vs. search vs. traffic to determine our monthly adjustments.
The Game Changer - Activity
All search engines, listings websites and social media platforms are paying attention to each other. There is so much data on the web and the engineers at Google, Facebook, Amazon and Microsoft are the best in the world.
Let's be real. Google is building driverless cars.  Its safe to expect that they are closely watching the Internet. They look at every aspect of your business.
So the biggest ranking factor we have discovered is that online business activity plays a key role. This includes the following:
Are you actively logging in and using GMB?
Are you actively logging in and using, Yelp, Bing, Manta and the other 30+ listing sites?
Are you updating information and events?
Are you posting on social media (especially your Facebook page)
Do you make posts on Google?
Are you uploading photos and videos to GMB and other platforms?
Activity is important. And if you think about it, it makes sense. Ask yourself this question: If you are Google, Yelp or Bing, then what is the worst business you can display #1 in rankings?
The answer: A company that is dead. A company that is out of business.
So how do these platforms know that you are a thriving, active business? The answers:
You post on Facebook weekly
You added photos of your Christmas party on Google
You added a post about offering a discount on Bing
You mentioned an upcoming event Local.com
You posted a new tutorial business that helps customers on Google
You added a blog to your website
You changed service descriptions on Yelp.
You ask customers to review your business consistently.
You quickly respond to those reviews with a thoughtful posts.
Strong, active businesses appear to Google and all other search engines as thriving companies that are using these platforms and care about their customers and show concern about their online reputation.
And guess what?
CUSTOMERS like to see this too! They want to see photos of happy customers. They want to visually see your end product or service. Clients want to see reviews and they want to see how you respond to reviews. Even if its a bad review.
So a strong, active online presence will also help your reputation, click through rates and convince more customers to contact you.
The same factors are used by other search engines and voice search. Google is the search leader and has an extremely advanced algorithm. Therefore we put a lot of focus on Google. However, Bing and Yelp still get a fair share. Yelp and Yext are particularly strong in voice search. They are also looking at the similar ranking factors including activity.
So, does this really work? Does it help?
Well, here is what a business that grew 500% and was able to open 2 more locations in the past year with 75% of leads coming from organic search. Leads from the website went up 7x. Leads from Google My Business jumped dramatically the first 6 months and still went up 175% in 2019.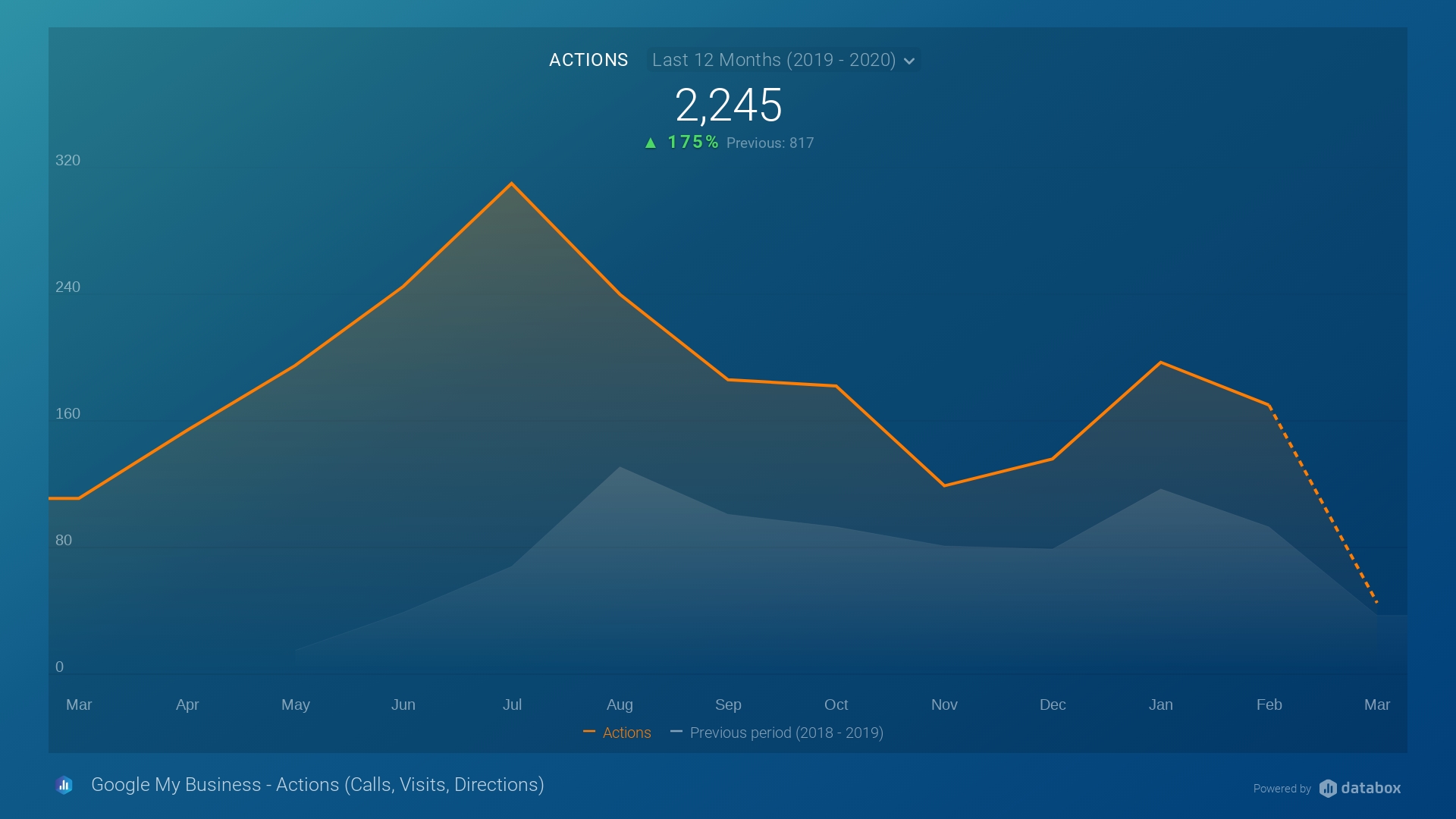 What to Do Next?
The first step to fixing your local SEO and ranking better in Google is understanding if anything is broken. Luckily, we have a free and easy solution.
Fill out the form below to get our free business report with information about how your business is performing online. We'll review your local business online presence and send you this report.   The snapshot report includes accuracy of listings, website, reviews, social media, ecommerce, advertising and SEO.  And as a bonus, we provide free access to our local business online toolkit that helps you manage your online presence.