Local businesses need to build a strong online presence if they want to attract customers. The first place to start is optimizing your Google My Business listing, website and reviews.
One of the secondary, but equally important strategies is landing page optimization for your Google Ads campaigns. Not only will this benefit your advertising performance, you can use what you learn to improve your overall website conversions.
Most businesses we work with are losing customers on a daily basis because their landing page is less than ideal or missing critical components. If you are spending more than $500 a month on Google Ads, then this is the one area where you can increase conversions and lower the total cost of conversion.  Doubling your cost per conversion is possible, but depends on how much room you have for improvement.  Even if you invested in having a professional do the work, doubling conversions would save you in the long run or allow you to get more business from your current ad spend. Both are ROI positive.
Limitations of Adding to Advertising Budgets
Its not uncommon for our clients to have early success. Then they tell us, "Wow, we had 50 leads, lets double the ad budget and get 100!"
Scaling with Google Ads doesn't work like that. It takes a bit more than just adding budget. Let's say you are spending a $1000 a month in Google Ads and getting 200 customers to your website at $10 a click. Then you increase your ad budget to $2000 a month. It is more likely the ads would cost $15 a click because to use up the budget, the Google Ad system will bid higher on keywords.  You would only up with 33% more leads in this scenario.
Ad performance is not linear on Google. If you want more customers, then you have to show up higher for more search terms, which means you have to outbid your competitors. And if you are bidding against any national companies or franchises with huge ad budgets, those bids can get extremely expensive. Depending on the market and competition, doubling a budget could increase your cost per click by over 300%.
So if you are trying to increase your conversion, budget it increases alone won't do it.  One of the best ways to increase customers you get through advertising is by optimizing your ad landing pages for conversions.
Can I Use My Website Home Page for Landing Page?
This is a good place to start because we do a competitive analysis when we begin a client engagement. We normally review 10-15 competitors for each client so I'm looking at hundreds of Google Ad campaigns for local businesses each year. I would estimate 70% of businesses send advertising traffic to their home page. Generally, this is a bad practice, though there are some reasons that using your home page can be beneficial when you begin an ad campaign.  I'll get to that later. Lets start with the basic understanding of the website home page.
Someone that visits your home page can come from a variety of sources that can include Google, Bing, other search engines, social media, business listings and referrals. While it's important to have good, compelling copy and a call to action (button, form, phone calls), home pages are designed with broad information about your business.  It is the "menu" for your business products and services. Home pages are going to have more information than an ad landing page and serves as a summary of your business.
So What Makes a Good Landing Page for Google Ads?
There are a few common features to consider when testing a landing page.  A general rule among marketers is that short landing pages out perform long landing pages. This is normally what you will find, but not always. So test a long and short version of landing pages every time. We have found that higher priced products or services can sometimes convert better than longer landing pages. We've seen this with companies that offer B2B services with large contracts and longer selling cycles. The user will often spend more time reading the longer page to make sure the company is qualified to provide the solution they are seeking.
Other than the long vs. short consideration, here are a few other elements of landing pages you should consider in the testing process.
Remove your normal navigation menus at the top of the page.  You are sending the visitor to the page to generate a lead or  sales. You want them to complete the purchase, call, send a message or fill out a form.  You don't want the user browsing your entire site or reading blogs.  Once the user becomes distracted, they are less likely to convert.
Try keeping your forms at the top of the page. A lot of users aren't picky and may have decided to contact you after reading the advertisement. So give them a chance to contact you quickly upon entering the landing page.
Consider some very short forms.  Sometimes its a big advantage to have longer forms as you capture more important information, which saves you time.  However, simple forms usually convert better.  But what if you REALLY need more information?  After form submission, redirect the user to a page that has another form asking for more details.  At least you will capture the lead and if they don't fill out the form, you can eventually get the details you need. Also send a form submission response email asking for more additional information.
Keep the landing page focused on specific products or services rather than every product or service you offer. Lets dive into this subject
The Benefits of Relevant Landing Pages
The quality score of the landing page is measured by Google and represents their "grade" of user experience. If you send a lot of users to the page  and they don't convert, your bid will become higher. If its bad enough, then Google won't even show your ad for the specific search term. The quality score on Google Ads is also tied to the relevance of the landing page which can impact performance.
As an example, let's say you provide roofing and siding services. If you bid on the words "install siding" but send someone to a homepage that only mentions roofing services, you will get a low quality score. Users will not find what they are looking for. But if you send them to a page with a big headline that says "Siding Installation Services" along with related content and several calls to action (forms, phone number links) and also have an offer for 30% of vinyl siding, then your visitor is more likely to convert to a lead.
Let's look at this image of landing below.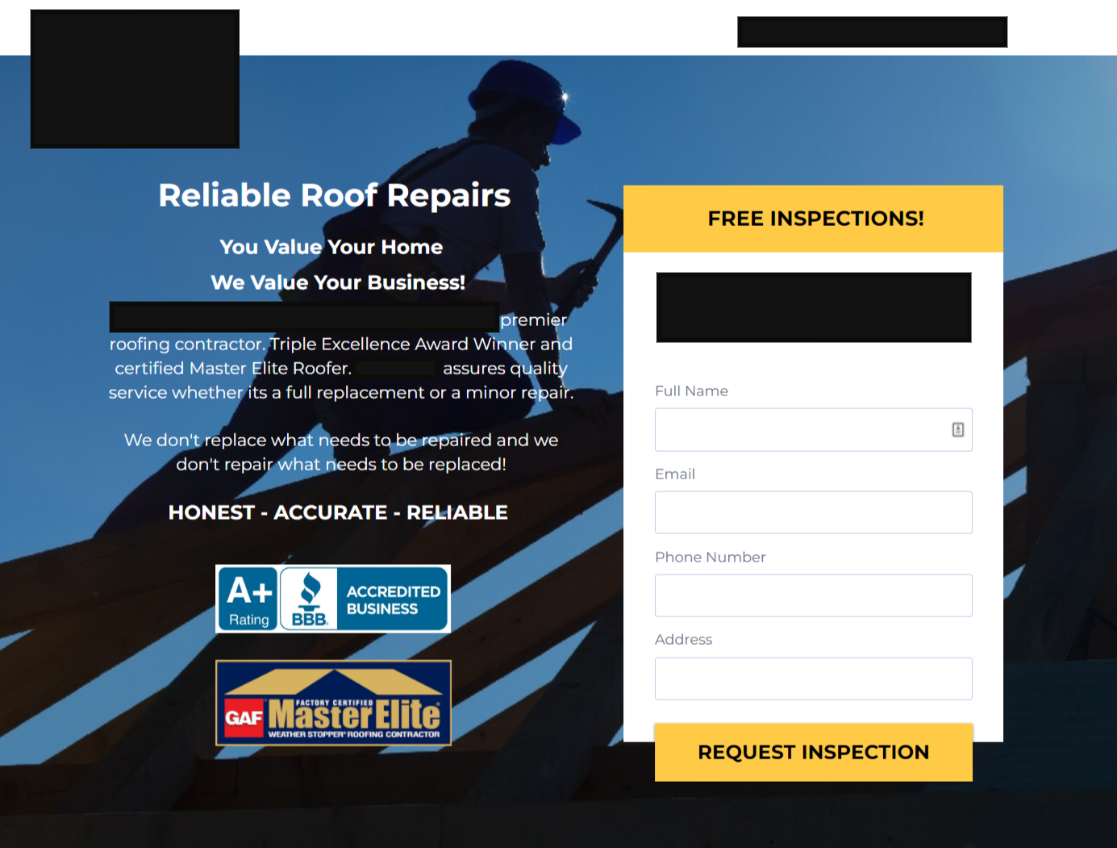 This is a landing page that displays for the keyword "siding contractor"
As we work with roofing companies, we see this fairly often. Many roofing services provide siding installation services. Those companies will usually bid on keywords related to siding.  But in this case, the page that displays only mentions about roofing.
A simple fix for this is to duplicate the landing page and change to siding keywords keywords. It would immediately increase the conversion rate. A page like this will also get a lower quality score for siding keywords which increases cost. Google will also be less likely to provide a top of page placement for this landing page.
One Benefit of Using a Home Page for a Landing Page
I mentioned above that using the home page as a landing page can  have some value. We will often use this strategy with new clients.  We will run the campaign to the home page to start getting some data.
Pay attention to conversions and which keywords converted. In our example, the user might click on an ad for the search phrase "roofing and siding company."  Maybe the potential customer wants a company that can do both.  The home page may convert well.  If there is enough search volume, you may decide to run the home page or model your landing page after the home page, trying different variations.
Results of Advertising Landing Page Improvements
We started with a new client in the construction business recently that had previously been running Google Ads.  So we had access to their history of performance.  We ran an ad for 7 days using the home page and another landing page that had already been used.  Using historical data, the 7 day test and search volume, we started to work on building new landing pages.  We deployed the landing pages on day 8.
Our first step was split up the campaign into different targeted ad groups.  The next step was to create several landing pages for each ad group.  One page was short, one was long and another one included location based keywords.  Ultimately, we found that 2 of the shorter landing pages converted much better for 2 ad groups. A longer page converted better for a commercial service.
This client was using a budget of $1500 per month.  They consistently averaged 12 conversions per month.  Our first 30 days during the testing period, they converted 18 users.  After testing landing pages and running the campaign for 30 days after, they saw an increase of 32 leads.  The cost per click went down dramatically, but a significantly lower cost per conversion is the key performance metric.  Conversions should end up about 3X what they were prior.  Here are the conversion and cost metrics.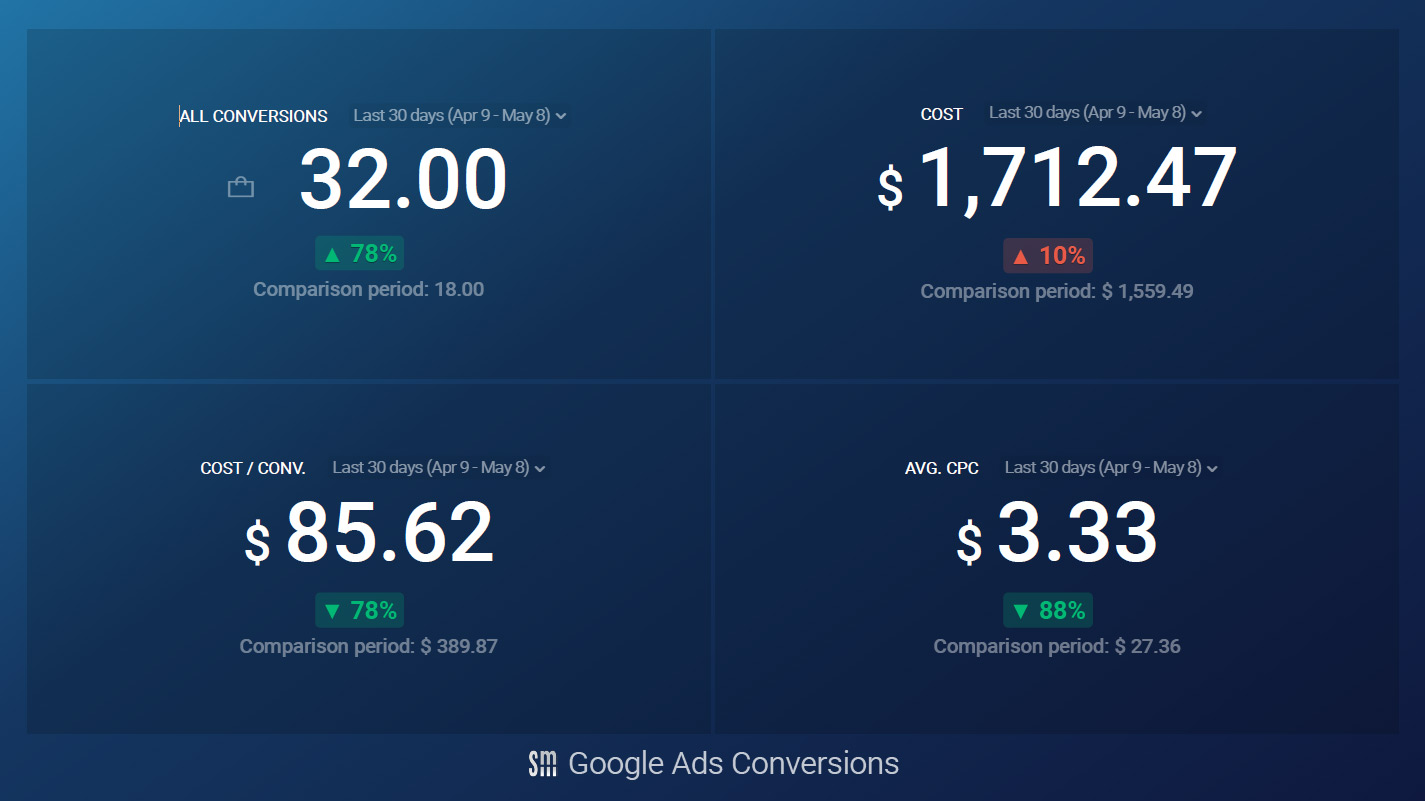 The budget was slightly higher due to a request to start increasing daily budget in the last few days.  Its also worth noting that they historically closed approximately 50% of their conversions. Those numbers stayed true for both 30 day periods.  Its important to make leads convert to customers.  Many of our clients will integrate their point of sale or CRM's into Google Ads and other marketing platforms. This allows you to accurately track revenue per lead.  You can send that data to Google Ads and help their AI smart bidding system identify higher value leads.  In this case, our client had not taken that step on the Google Ladder.
If you increased leads per month from 10 to 15 on a $300 a month budget, then would have a moderate 50% (not 1500%) increase in conversion rate. Cost per conversion would go from $30 to $20. On $300 a month budget, your previous $300 would have produced 120 leads over a 12 month period for $3600. After increasing conversion rate, it would only cost $2400 to get 120 leads. So $1200 savings. And this is not a big budget. In most cases, landing page optimization for a local business shouldn't be expensive for a consultant or marketing agency.  There are some complex landing page optimizations for certain products or services, but I would say this is rare.  Campaigns with large budgets might justify a bit more time spent on landing page tests.
Improving Ad Performance
Most people don't realize that there hundreds of areas within the Google Ads platform that can help you improve results.  Ad targeting, affinities, review integration, map ads, ad extensions, negative keywords and the big one: landing page optimization.  If you haven't optimized those areas, you have an opportunity to either save budget or improve your return on ad spend (ROAS).
If you or your team run online ads, then I would recommend spending some time optimizing those pages and campaigns. If you are busy, like most business owners, then we can provide an honest assessment of your online presence and current Google Ads campaigns to see how much room you have for improvement.  To learn more, visit our Google Ads page.