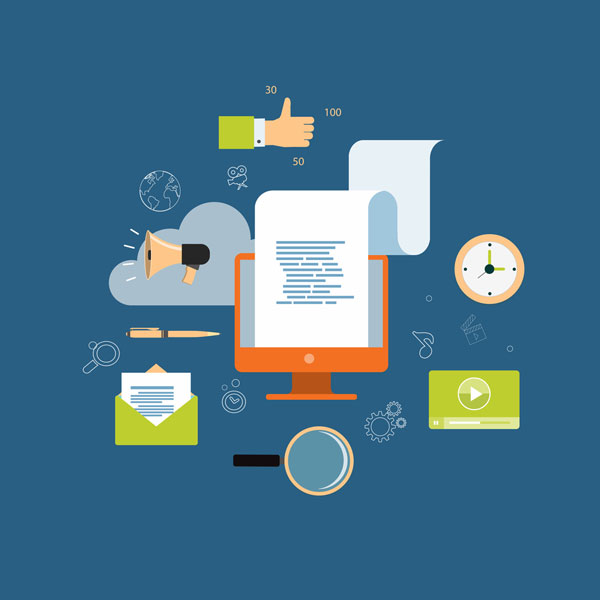 Keys to Growing Traffic Through Content Marketing, Email and Text
SEO Services to Increase Rankings

Monthly 500-Word Blog Post
Written, Edited and Posted
SteadyContent creates high-quality, unique, SEO-optimized content automatically posted to your blog on your WordPress site! Blog content is delivered monthly, and each post is 500 words.

Monthly 1200-Word Blog Post
Written, Edited and Posted
SteadyContent creates quality, unique, 1200 word SEO-optimized content posted automatically posted to your blog on your WordPress website! Focus on your core business and sales activities instead of writing, optimizing, and posting blog content. 

4 Monthly Targeted Blogs
Managed Content Service
We identify which topics the client should be writing for and why they should be writing those topics. Then, each week you will receive a new blog post (800 word minimum), written in the correct tone for the correct audience, with their business goals in mind.

Textbroker Blog Package
Consistent High Quality Content
Your business needs fresh, written content to stay at the top of the search engines results pages. There's no better way to do that than with blog posts! Achieve greater ROI by driving more traffic from search.

Web Engagement Tools
DIY Website Engagement
Engage website visitors with a collection of 9 products including AI Chatbot, LeadBot, popups, banners, sliders, surveys and more.

Video Maker
Make Videos for Ads & Social Media
Businesses, Marketers, agencies and, advertisers can use this tool to make short videos with templates, text, music, and animations (think Buzzfeed or Vox style videos) in minutes.

Screen Sharing App
Screen sharing Tool
Easy to use screen sharing tailor-made for salespeople. Ideal to add to an ongoing call.

Appointment Booking
Appointment Scheduling
Appointment Scheduling empowers you to let your customers book appointments online with real-time availabilities and automated reminders. Your clients can get up to 40% more bookings while reducing no-shows and saving hours per week.

Cyber Risk Protection
SurviveCyber Risk Protection
Reduce exposure and the legal and financial risks of a breach through affordable cyber protection.
"I could see you've been working so hard to make everything work. We are so grateful to have you in our team. Thanks, Dave, you are the man." - CEO of Nutritional Company
"Thank you so much for doing all this GREAT stuff for us! Appreciate it ALOT!! We will do the audio clip tonight!! You really have done a great job with our Twitter, I'm excited to see what you can do with this other adventure!" - Music Promoter
"Holy cow, Rob! It looks great! I just forwarded this to our President, we will review later, as far as layout goes, I really like it." - Manager of Financial Institution
"I was initially determined to figure it all out. Within 3 weeks I found myself paralyzed by options and hurdles I never saw coming. I messed around for nearly a year with almost nothing to show for it. Very few fans, no site traffic.
All I can say is Wow. You made more progress for me in five days than I accomplished in a year." - Country Music Artist


If you are not sure what products or services are right for your business, please fill out this form and we'll set up a free consultation.