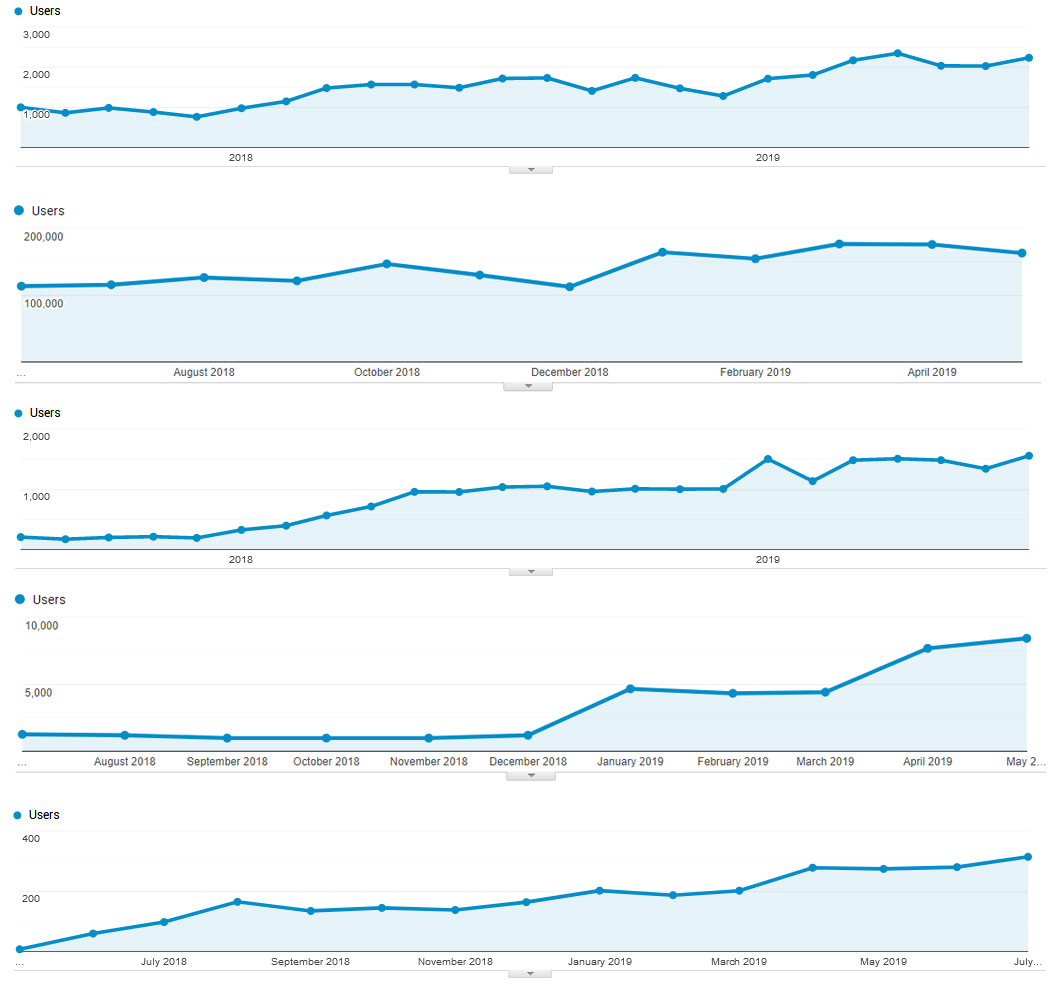 Keys to Growing Your Website Traffic on Google and Other Search Engines
SEO Services to Increase Rankings

Local Business SEO
SEO for Local Businesses
Ideal for businesses that want to establish local online visibility for the geography where their business is located.  Includes dashboard, targeted SEO, 7 keywords, content writing, backlinks, on page website optimization and more!

SEO Network
Powerful network that helps you rank!
We created a network that helps business owners build on their existing sites and connect with each other. This SEO network will get you the content you need to rank in search using authority inbound links from competitors and businesses in your category.

Monthly 500-Word Blog Post
Written, Edited and Posted
SteadyContent creates high-quality, unique, SEO-optimized content automatically posted to your blog on your WordPress site! Blog content is delivered monthly, and each post is 500 words.

Monthly 1200-Word Blog Post
Written, Edited and Posted
SteadyContent creates quality, unique, 1200 word SEO-optimized content posted automatically posted to your blog on your WordPress website! Focus on your core business and sales activities instead of writing, optimizing, and posting blog content. 

4 Monthly Targeted Blogs
Managed Content Service
We identify which topics the client should be writing for and why they should be writing those topics. Then, each week you will receive a new blog post (800 word minimum), written in the correct tone for the correct audience, with their business goals in mind.

Textbroker Blog Package
Consistent High Quality Content
Your business needs fresh, written content to stay at the top of the search engines results pages. There's no better way to do that than with blog posts! Achieve greater ROI by driving more traffic from search.
Search & Marketing Expertise
The Co-Founders of Sourceline Media, Dave Haas and Rob Thomas, are search engine marketing veterans that have been working in search marketing for over 20 years.  We are Digital Marketer Certified Search Marketing Specialists.  More importantly, we have a track record of success.  We built websites that produced over 1 million Google visitors per month back in 2006.   We've continued to master search and help our clients generate traffic and revenue. Our company has sent over 50 million organic visitors from Google to websites we've managed in the last 10 years.  We provide services for all every size company at various price points to help you get an ROI.  Let us help you!
Proven Growth in Organic Search Engine Optimization
"I could see you've been working so hard to make everything work. We are so grateful to have you in our team. Thanks, Dave, you are the man." - CEO of Nutritional Company
"Thank you so much for doing all this GREAT stuff for us! Appreciate it ALOT!! We will do the audio clip tonight!! You really have done a great job with our Twitter, I'm excited to see what you can do with this other adventure!" - Music Promoter
"Holy cow, Rob! It looks great! I just forwarded this to our President, we will review later, as far as layout goes, I really like it." - Manager of Financial Institution
"I was initially determined to figure it all out. Within 3 weeks I found myself paralyzed by options and hurdles I never saw coming. I messed around for nearly a year with almost nothing to show for it. Very few fans, no site traffic.
All I can say is Wow. You made more progress for me in five days than I accomplished in a year." - Country Music Artist


Search Engine Optimization Contact Form
If you are not sure what products or services are right for your business, please fill out this form and we'll set up a free consultation.