For anyone needing help moving or migrating from a gmail inbox to a new domain based g suite email including instructions for POP3, SMTP, Email Alias and Group email.
So you changed the G Suite.  It was a smart move.  There is no question in my mind that gmail is the best the email service and G suite is awesome for domain email.   Google has the biggest market share in email with 1.2 billion users and 44% of people in the U.S. are using gmail while their nearest competition, Yahoo, is at 26% as of 2017.
I generally don't like going with the popular products or ones that the masses use.  However for email, its a no brainer. Gmail is fast, has better redundancy and better spam management.  It make a big difference with domain email because it G suite checks your mail instantly where as normal SMTP has a delay.
Unfortunately,  G Suite is not easy to set up.   Due the complex nature of security there are settings all over the place that can cause issues.  I'm hoping this guide can help you out.   But I want to be clear. If you can't get it right away, call G suite.  This is a huge benefit of paying for an account.  They have support and in my experience, these people are very good.  Even though I'm tech savvy, I had a hard time finding solutions on my own and had to call them on a few occasions.
Before We get Started on the G Suite Migration
I make the assumption that you've already done the following:
Signed up for Google G Suite

Have access to the Google G Suite admin account

Have changed or will change MX Records with your domain registrar or web host.
For the purposes of this instructions I'm going to use two different definitions.
G Suite Domain Google Account (

[email protected]

)

Gmail Google account ([email protected])
What is important to note when you sign up for g suite is that your new domain account [email protected] becomes its own Google account (g suite) account.  It will have its own inbox. It is ideal to use email from this inbox as I believe its a bit faster, but sometimes it takes awhile to get it working correctly.
While I was trying to get this figure out, I spent about 5 days with 2 gmail accounts open. My old gmail and my domain gmail.  This isn't ideal but something you can do until you get it right. 
Moving from Gmail to G suite
A lot of people, like myself, had been using Gmail for over 10 years. I have all my folders set up nicely in gmail.  I was using domain email hosted on a shared hosting, cpanel account and used POP3 and SMTP to send and receive email. It was slow.  
When you move to G suite, you will get a new inbox that works with your domain name.
However, to get that inbox working the way you want and migrating your old settings can take some time.  So I'm going to start by helping you get your new g suite domain email working in your existing gmail account
Just keep in mind that Google is constantly changing. I try to update this post when I can but Google often makes changes faster than I can update. Leave a comment below and I'll try to update this post.
Transitioning domain POP3 on Existing Gmail after switching to G Suite
If have been sending and receiving domain email ([email protected]) within an existing gmail account ([email protected]),  you are likely using POP3 account.   Most likely using a shared hosting plan like cpanel.
However, once you switch to G suite those settings need to be changed as the old POP3 and SMTP will not work as once you change the MX Records to G Suite.  
Before attempting to change the POP3 and SMTP in your Gmail Google Account, you need to make changes to your G Suite Account security settings. 
(Please note that you can actually sign up for G suite and login into your Google Admin account and make these admin changes before you change the MX Records. I noted in these steps which changes are "Google Admin" changes that can be done ahead of time).
STEP 1 (Google Admin) – Allow Less Secure Apps in your G Suite Admin Account
Log into google admin – https://admin.google.com/

A. Select Security (Manage security Features)
B. Select Basic Settings and Go to settings for less secure apps

C. Select Enforce access to less secure apps for all users.
I use enforce access to less secure apps as we only have a few people that use this and generally I find that most mail apps on mobile phones don't work if you don't select this settings.  I also believe they are going overboard with security. But my disclaimer is toat make sure you pay attention to which apps you allow access to gmail or any other software you use. If you let shady apps access your gmail, then you you could run into trouble.
Note: After selecting make sure to hit SAVE on bottom right hand part of screen
STEP 2 (Google Admin) – Allow Per User Outbound Gateway and Allow POP3 in your G Suite Gmail Settings
This basically just lets mail programs send mail as your domain and allows you to set up POP3 in mail apps, old gmail accounts or programs like Outlook.  
A.Log into google admin – https://admin.google.com/
B.Select Apps and Select G Suite

C. Select Gmail
D. Select Advanced settings (at the bottom)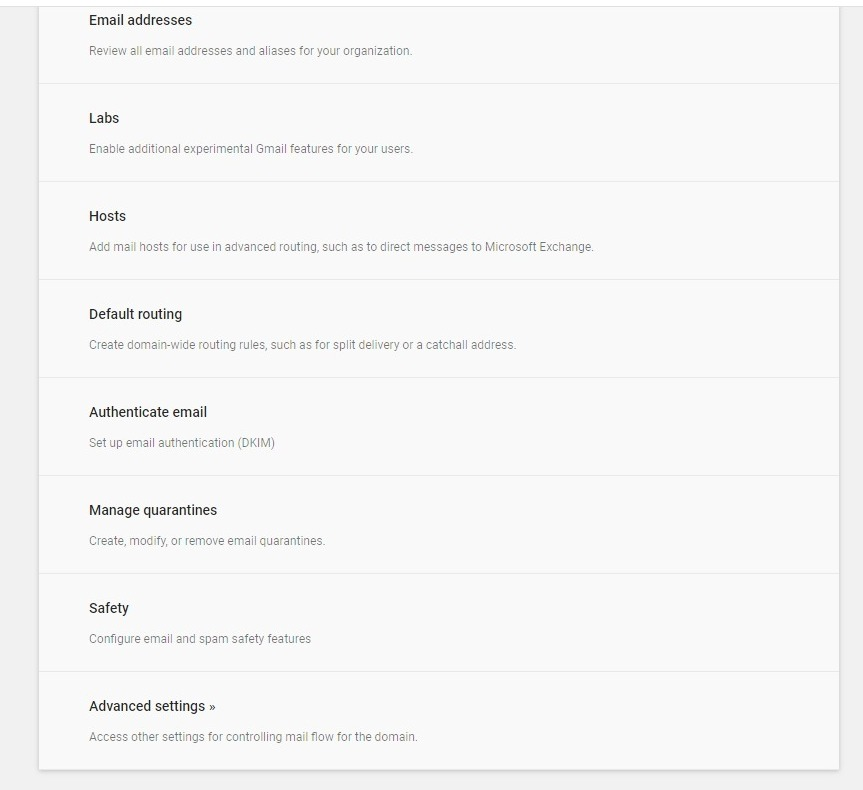 E. Make sure Disable POP and IMAP access for all users is UNCHECKED. And  Make sure to CHECK Allow per-user outbound gateways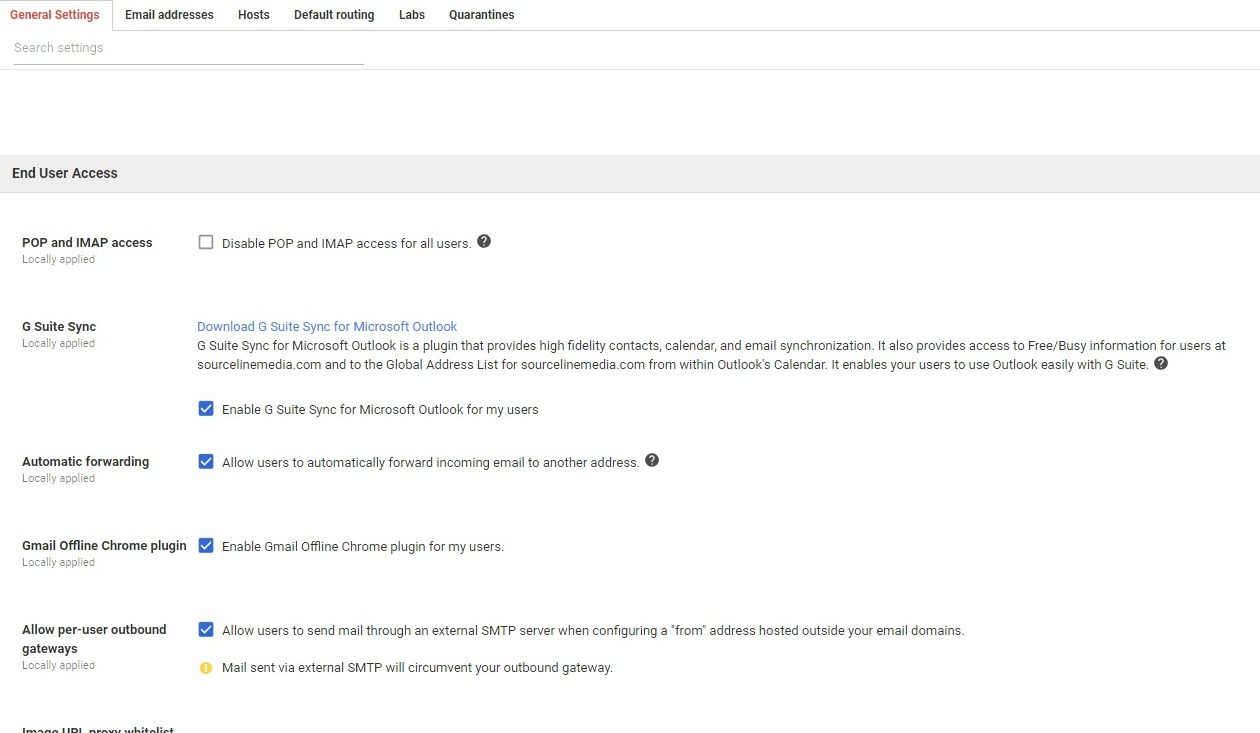 STEP 3 (Gmail) – Change Settings in your Google Gmail Account
(please note, this is just one way to get domain email.  You can and in most cases should use your [email protected] mail inbox to retrieve domain email. It is likely faster but some people need their email right away so they choose to acquire it through their existing gmail using POP3).
A .Log into your [email protected] account
B. Go to Settings

C. Go to Accounts and Import Tab
D. Select Add a mail account from the Check mail from other accounts.
(If you have an existing [email protected] account set up you can delete it or edit it)
E. The first screen you add your email address then select import emails from my other account (POP3)
F. Change the POP3 settings using below and make sure you selct Always use a secure connection (SSL) when retrieving mail.  You can choose to label if you want or archive it but most people would select those fields and you can always add them later through a filter.
Incoming Server Name:

pop.gmail.com

Incoming Server Port:

995

Use SSL (required):

Yes

Email:

Your full email address

Username:

Your full email address

Password:

Your email password
G. Change or Add SMTP to send email as
Outgoing Server Name:

smtp.gmail.com

Use Authentication:

Yes

Use SSL (required):

Yes

Use Encrypted Connection (SSL or TLS/STARTTLS):

Yes

Outgoing Server Port for TLS/STARTTLS:

587

Outgoing Server Port for SSL:

465
I use port 587 and secured connection using TLS (recommended)
Add the code to verify, then test to make sure it works.
STEP 4 – Adding Email Alias to ONE account (user)
If you have [email protected] or [email protected] then you can set those up to send to any one single account (if you want that adress to go to multiple users go to STEP 4)
A. Log into google admin – https://admin.google.com/
B. Go to Users and select a User
C. Click on User Information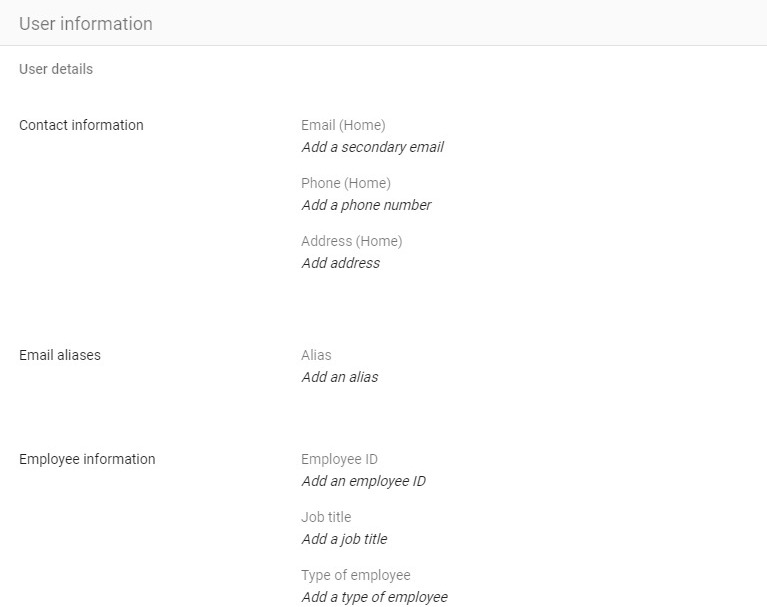 D. Click Add an Alias and create the email account and it will forward to the user you selected.
STEP 5  – Adding Email Alias to Multiple Accounts (users)
If you have [email protected] or [email protected] then you can set those up to send to multiple people. The trick here is that you have to get it set up and have to get permissions right.
A. Log into google admin – https://admin.google.com/
B. Click Groups and Click Create Group
C. You will now create an email for the group. Create the name for the email you want such as [email protected]  You can make multiple group email aliases later.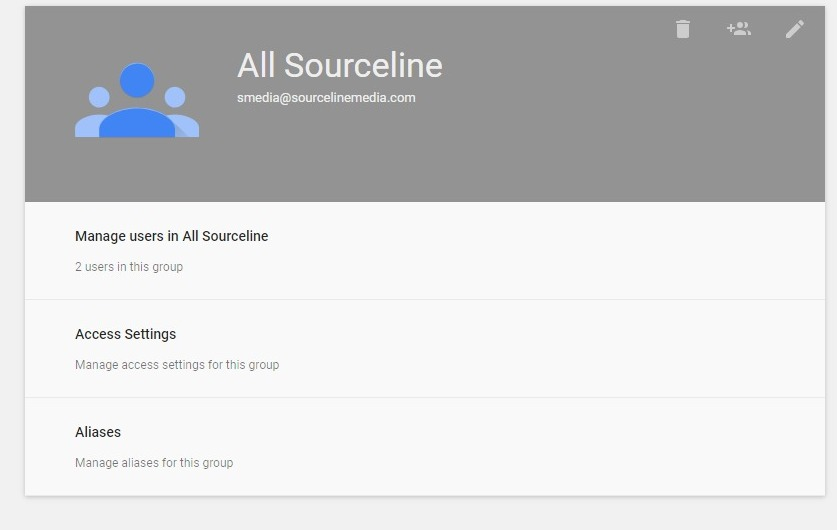 D. On the top right of that screen click the + sign to add add users.  Then select which users you want to receive the emails.
E. Once you add users, you have to change permissions. So select Access Settings then go to Basic Permissions.  Under Post you need to select "Anyone on the Web" and that enables outside people to email the group.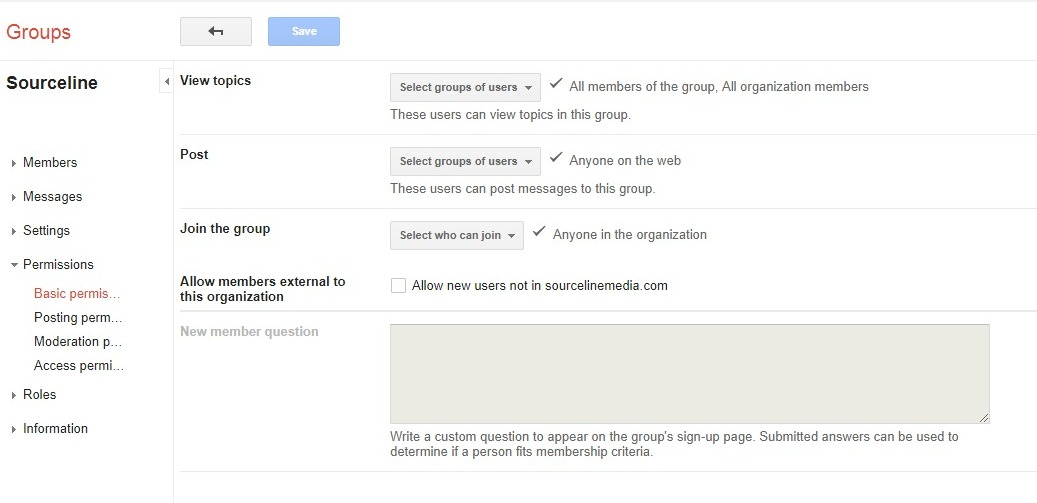 F. Test the email to make sure everyone in the group receives it.
—————-
If you get tripped up trying to change any of this, don't worry. That is probably mroe common than getting it right.  I suggest calling G Suite support. I've had to call them multiple times and they are very good, quick and can get it working.
You can click Support button on the admin dashboard to get support info.
IMPORTANT:
The other way to make this migration is to use your [email protected] email box that you get when you sign up for G Suite.  Then you migrate over all your folders and settings into the box and forward gmails to that mail box. This is also complicated and hope to make a guide for this soon.  In the meantime, look at these posts for more information.
Right Way to Migrate from Gmail to G Suite