Personally knowing your model customer or crafting a customer avatar is among the most critical steps in preparing to market your product or service.
Business owners are quick to identify and describe their perfect customer. This exercise dives a little bit deeper so that we can identify the actual driving forces behind whether someone buys or does not buy your offer.
We begin with the common demographic elements of measure, such as age, gender, marital status etc. these are commonly used as the opening audience definition for an advertising campaign. As you know, there are lots of other things going on in the minds of your prospective customers.
Model Customer Exercise
In completing this model customer exercise, we discover what these potential customers may have in common. We'll find that they collectively like certain things and likewise complain about lots of the same things.
Stereotypes exist in nearly every vertical and every market. We drill into these stereotypes to determine as many things as possible that each of your model customers may have in common.
Taking it a step further, will also evaluate your model customers most common pain points, points of objection, and other issues that may prevent them from buying your offer even if they like the general idea of what it promises.
A more generalized version of this form can be seen at DigitalMarketer where they explain the very similar process.  At Sourceline Media we take this step a little bit further as you'll see in our form download.
The Customer Form as a Survey
When you complete a survey like this it is very important that you actually picture a human being is if you are interviewing them. This is a very personal exercise delving into very personal details of your customers' wants and interests.
If your model customer may be a man or a woman, it may be advisable to fill this form in accordance with a male model and another copy representing the female model.
Further, if there are other distinct demographic differences that you can subdivide your model customers into we also recommend completing a different survey for each of those groups individually. Download the form in Microsoft Word: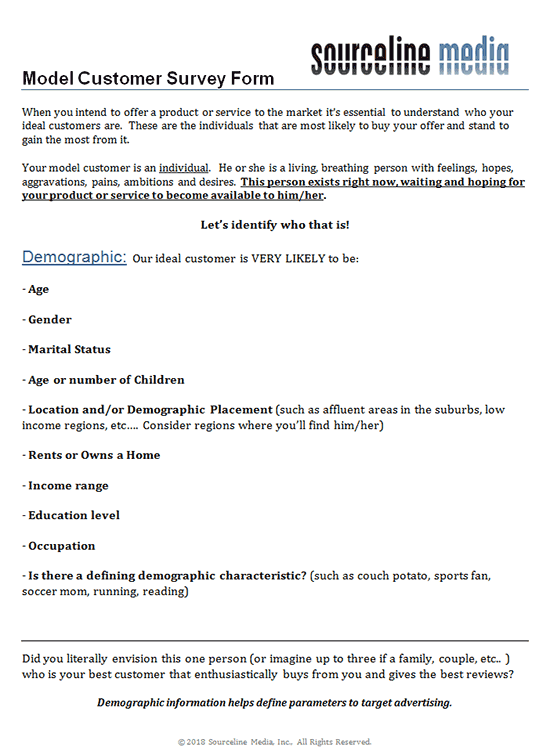 Library of Execution Plans
Sourceline Media is a DigitalMarketer Certified Partner and marketing agency, so we have access to a vast library of content designed for marketing professionals.
If you like this form, you'll really enjoy access to the DigitalMarketer library of execution plans known as DM Labs.  The library is just the beginning.
This reference will serve you very well in creating website copy, landing page copy and defining the targeting for your advertising. This will also help you to "speak the language" of your customer more coherently and in a way they can closely relate to.
Role Reversal Exercise
With the fresh perspective of having just completed the survey, continue to the Role Reversal Exercise and work on your "elevator pitch". In this section we pose five questions that will relate to how you might explain your offer to a potential customer face-to-face with only a limited amount of time.
Maintain copies of your model customer or customer avatar surveys throughout the entire process of your campaigns from start to finish. Along the way we often find more information to add that is beneficial for future campaigns.
If you're active in advertising on Facebook you'll understand that what you're doing is creating a profile for your own "look alike audience". In a mature campaign you'll be able to profile your model customer more precisely and use custom audiences in your advertising campaigns to take over.
Don't forget to include interests that are common to your audience that may have nothing to do with your brand or offer. It just so happens that people commonly congregate in groups with others they already have similar things in common with. We often find that our target demographic populations often enjoy similar music, movies, social forums and pastimes that aren't related to any product or service whatsoever. These can be great sources of audiences that offer less competition and a better audience reception.
Digital Marketing Training Certifications
If you're a marketing professional, agency or work in a marketing department, you could benefit from certification and further assistance keeping up with trends and technologies. Learn more about the DigitalMarketer HQ Certification Program here.
As an agency that has completed every Certification, we can't recommend this enough. It's really one of the most cost effective ways of getting specific training in advanced digital marketing techniques. You may also qualify for a free 14-day trial to see if this is right for you.
We're here to help with any or all of your business development, branding, marketing and advertising needs. If you have any questions please feel free to reach out to us today!